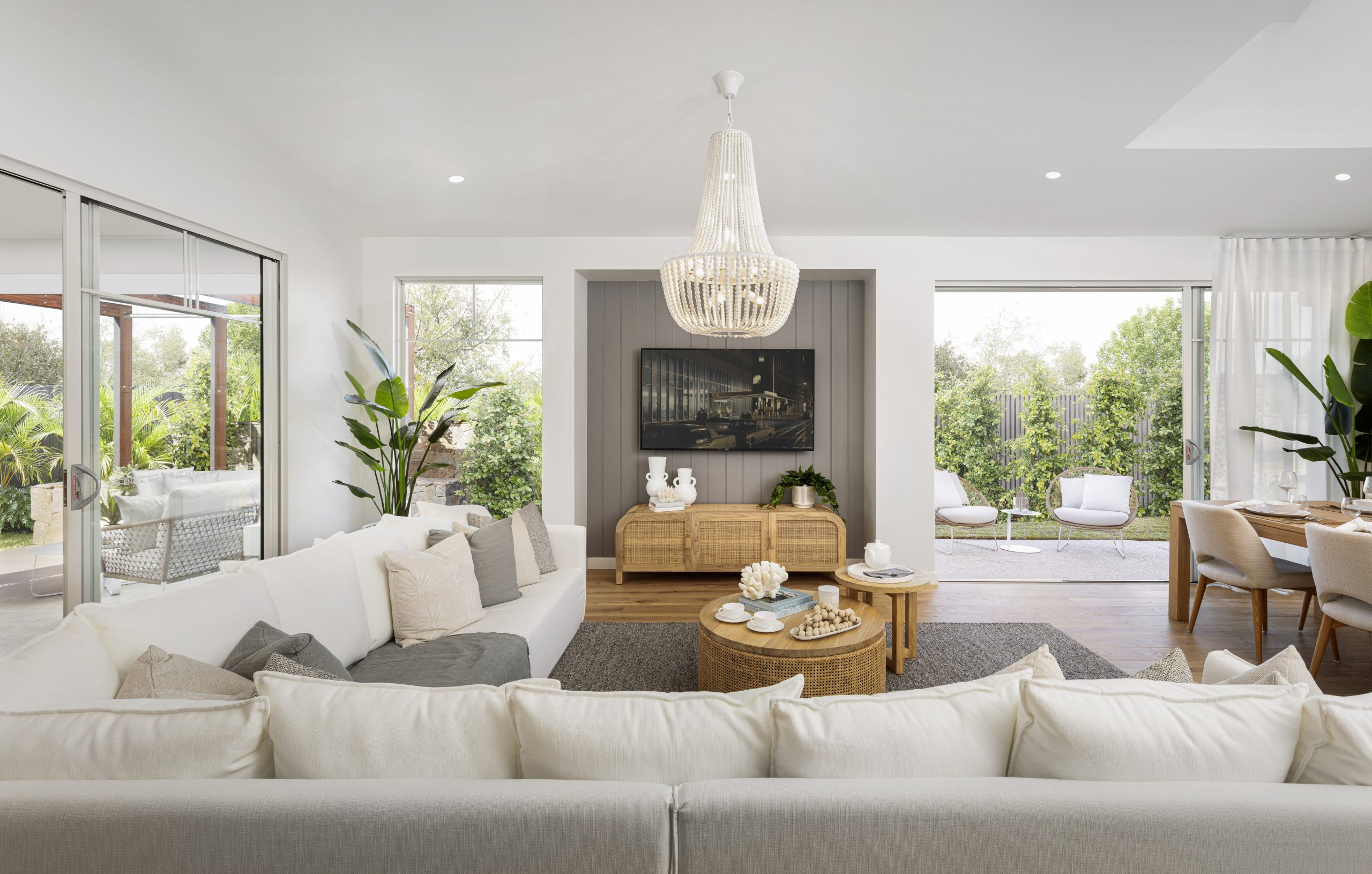 Building A Brighter Future
THE LATEST BUILDING INNOVATIONS AND TECHNOLOGY ARE PLAYING A VITAL ROLE IN MOVING AUSTRALIA TOWARDS A KINDER AND MORE ENVIRONMENTALLY FRIENDLY FUTURE, AND AT THE FOREFRONT OF THIS MOVEMENT, MCDONALD JONES HOMES IS COMMITTED TO EMBRACING INNOVATION FOR HEALTHIER AND MORE SUSTAINABLE PRACTICES. HERE, KATIE LIVINGSTON CHATS WITH THIS ESTEEMED COMPANY'S NEW SOUTH WALES SALES MANAGER, NATHAN KLEIN, ABOUT HOW IMPLEMENTING CLEVER DESIGN PRINCIPLES AND THE LATEST TECHNOLOGY CAN RESULT IN A LAVISH HOME THAT BOTH YOU AND THE PLANET WILL LOVE.
We all love our homes; they protect us, provide us with shelter and offer a place for our loved ones to come together, but with climate change growing ever more concerning, it's time our homes protect not just us, but our planet as well. Fortunately, living a sustainable lifestyle doesn't mean resigning yourself to a life in a cave, without the benefits of technology. On the contrary, a sustainably designed abode will greatly improve your quality of life and add extra luxury to your home.
As one of New South Wales' leading new home builders, McDonald Jones has always been ahead of the game.
In the past, the company's architect, Stuart Everitt, changed the industry with his unique and innovative approach to open-plan living, and was even one of the first to introduce the now commonplace – and much loved – alfresco into every design. And once again the team are paving the way, but this time, it's by creating smarter and greener homes for everyday Australians. As the NSW sales manager Nathan Klein puts it, "We are committed to embracing innovation and better ways to positively impact the communities and environments in which we operate to ensure that we add value in creating a better future."
BACK TO BASIX
Almost every new residential build in NSW now has to meet the BASIX's (Building Sustainability Index) strict water, energy and thermal comfort guidelines, and Klein explains that the recent changes to these regulations "resulted in a massive overhaul of standard inclusions", with the aims of reducing greenhouse gases and water consumption. "Now we include better insulation as standard, Hebel construction at no charge for our two-storey products, as well as new solar packages and more recently, electric car chargers in all our garages."
When it comes to planning the sustainable sanctuary of your dreams, Klein notes that there are "so many elements to an environmentally friendly home", but often it is actually the basics that are most important. With the first considerations being design elements, such as natural light and ventilation, the conversation around sustainable inclusions in your new build should actually be had with your building and design consultant from the very first meeting. "[This is so] that we can fully understand what is important to [you] and provide the right feedback and advice on how to achieve this within [your] price point," he explains.
The inclusions of your eco-friendly home will not just depend on your budget, but also on the climate and landscape of your location. "We build homes right across New South Wales and the ACT, from the sunny north on Coffs Harbour to the chilly snowy hills of Canberra," Klein explains. "Each of our new home designs must meet the environmental requirements of the region and undergo a BASIX approval process to ensure that everything is compliant prior to construction commencing. This index will review the location of the proposed home, solar aspect, natural light and consider both thermal and energy impacts to the home."
THE LAY OF THE LAND
The orientation of your home plays a key role in its efficiency, as a well thought-out design will reduce the property's need for lighting and climate control, optimise your home for solar panels and even potentially reduce the emissions created during the construction process. "The most important thing anyone can do to achieve the best outcome in terms of thermal efficiency is siting the home correctly on the block", Nathan affirms. "Ideally you will want your living areas and outdoor spaces facing north or east to maximise the morning light in summer and warmth during the colder winter months."
There's a lot of factors to consider when designing a home, and unless you're particularly savvy, doing the research on your own is going to be quite the quest. Thankfully, the experts at McDonald Jones "are able to give you the right advice when it comes to the correct orientation on your block of land", which will essentially translate to less use of air conditioning. The company's building and design consultants will also use 3D design software to "position suitable designs and review things like setbacks, shadowing and solar performance", so that there won't be any costly or wasteful setbacks. A biproduct of excellent orientation, natural light and good ventilation are essential components to any eco-friendly design. But aside from its practical benefits, "natural light is one of the key design elements that we believe make our homes feel so open and full of life", not to mention the potential vitamin D benefits for homeowners. "We use large feature windows and bi-fold doors regularly to achieve a seamless transition between the inside and outside. In the last few years we have also raked our ceilings in many of our designs and added Velux skylights to bring in even more light. Our newer designs also feature voids over the ground floor with giant windows on the first floor to make the living spaces feel even larger," says Klein.
FOCUS ON WHAT MATTERS
The materials you choose to build with can also have a big impact on the carbon footprint of you home – and not just in day-to-day emissions, but this can also impact the amount of pollution and waste created during the building process. By opting for recycled or reclaimed materials, locally manufactured supplies, carbon-neutral vendors or long lasting and durable products, you can really make a positive impact on the environment. "As one of the leading new home builders in NSW, McDonald Jones have built strong partnerships with leading Australian suppliers like James Hardie, Austral and COLORBOND who help deliver sustainable products to be used throughout the home, such as thermal performance in roofing, through to locally sourced bricks and cladding, and low-maintenance materials for long-term benefits to the home user," Klein notes.
GET SMART
As technology advances, the affect that these appliances and fittings have on the atmosphere lessens more and more. Perhaps the most common suspect and much-loved technology throughout Australia, "solar panels will obviously reduce your electricity costs". And these days there are plenty of both government and private incentives that offer discounts and energy credits for your solar investment, meaning that you can earn your money back in savings. "A tier 1, 6.6kW solar panel system is also an added benefit of building new, and we now offer it with every home build," he says.
Klein also explains that the team at McDonald Jones Homes take further steps to ensure the efficiency of their clients homes, down the minor details. "We provide our clients with water-efficient fixtures and fittings, water-saving appliances from one of our major partners Fisher & Paykel, [as well as] recycled water for our toilets, dishwasher and washing machine and a rainwater tank – all as standard specifications." When it comes to lifestyle changes, switching to an electric or hybrid car is one of the most impactful choices you can make, and one that will ultimately save you money on petrol and obliterate your carbon emissions. To accommodate this switch, "McDonald Jones also include an electric EV car charger in every garage, so the sustainability and future proofing continues outside the home as Australian families transition to greener cars," Klein says. "Homes are getting smarter and greener," the expert affirms, "and at McDonald Jones we are proud to be able to build architecturally considered homes for everyday Australians that deliver many sustainable and innovative features – right from the time we hand the keys to the customer to enjoy for many years to come."
A GREENER WAY OF LIVING
To take your eco-focus one step further, choosing a builder who shares your passion for sustainability can also greatly reduce the emissions produced as a result of your new home. If this is the route you want to take, ask your candidate what efforts their company makes to cut its carbon emissions. For McDonald Jones, the answer was simple: "We strive to reduce the emissions intensity of our business through capturing energy from the sun to power offices, unlocking the solar potential on the roofs of customers' homes, the inclusion of LED lighting and electric vehicle (EV) chargers in garages," Klein confirms. "In addition, the harnessing of water and minimisation of wastage across our businesses and the homes that we build allow for recycled water to be used for gardening, landscape irrigation, washing clothes and amenities."
At the end of the day, "sustainable home designs not only have positive environmental impacts, but also great health benefits to [those] who live in them", and McDonald Jones Homes acknowledges that as a major home builder, sustainability is an essential consideration that needs to be taken into account during its design and construction process. Such consideration will ensure that the team deliver a truly wonderful living experience for each and every one of its customers. As Nathan Klein affirms: "We will continue to work for a greener, brighter future."
Images courtesy of McDonald Jones Homes