COMING OUT OF THE WOODWORK
Making a splash against any wall, decorative panelling can bolster the design and style of your home, whether you're after an old-world feel or something a little more modern. Here, Kirrily Ireland speaks with Bill Shaw, qualified carpenter, joiner and licensed builder, and the 'craftsman' of The Craftsman and The Draftsman, to discover how you can incorporate decorative wall panelling into your home.
Written by Kirrily Ireland.
While sleek, plain walls may seem like the clear choice for a clean, contemporary abode, you might just be overlooking all the style benefits of panelling, which can turn a house into a home. Panelling can really "bring a wall to life" as it "creates interest" and "tells a story", turning any old wall into a work of art. Whether you opt for a simple tongue-ingroove feature, or deck out every room with gorgeous wainscoting, your home will stand out from the rest, boasting a design that's full of character and charm.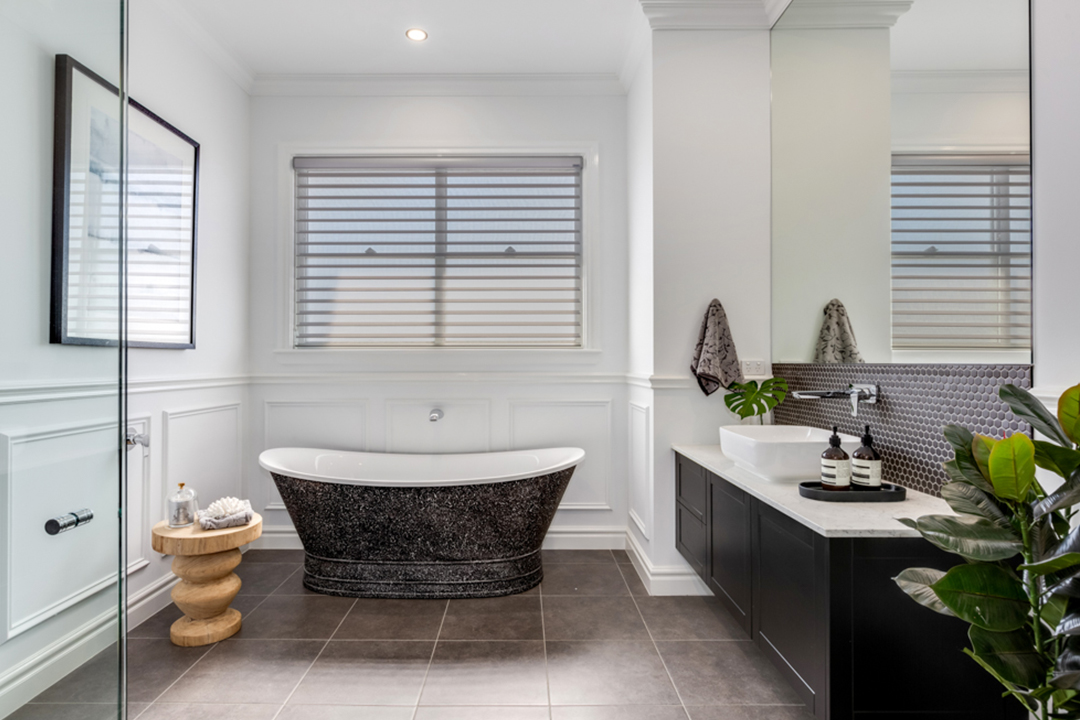 OVER TO THE PANEL
One of the greatest selling points for decorative wall panelling is that it can be customised to suit any home, and even any room of the house. There are various options to choose from when it comes to designing your home, which are best researched so you are aware of every possibility and to ensure you choose what's best for you.
Although both are quite similar and ultimately achieve the same effect, wainscoting and panelling have their differences. "Wainscoting is a style used in America – taken from Europe – creating a more coastal feel and an elegant touch," Shaw explains. "Wainscoting is decorative timber trimming precisely calculated to form a desired pattern, which brings a wall to life, [while] panelling is decorative boards, usually tongue-in-groove or timber, crafted together [to achieve the same liveliness]."
Wainscoting can provide homeowners with a more traditional look, making any home appear luxe and expensive without breaking the budget. Despite its
prominence in old-fashioned houses, wainscoting is no stranger to modern dwellings; with a pristine coat of paint, or even a groovy wallpaper to accompany it, this stunning wall feature will elevate your home's design and draw the eye of envious guests.
Panelling, while often exuding a similar traditional, old-fashioned impression – think 60s and 70s wooden wall panelling – it is now the hallmark of the modern-contemporary style. The typical vertical boards can be spruced up with a neutral or fun colour, but don't be afraid to think outside the box either. Different geometric shapes, floor-to-ceiling square patterns and herringbone timber lining are a few ways to create an individual look.
The modern aesthetic doesn't have to be the goal either now that the traditional styles are making a comeback. Period features, picture rails, decorative skirting and windowsills can pull a home back into the previous century, bringing out the best from these earlier classical eras.
If you are unsure about adding panelling to your home, and fear it will look outdated, especially if your home is particularly modern, Shaw recommends to "seek advice and start in smaller areas". Start with one room, work slowly from there, and watch your vision come together.
THESE FOUR WALLS
Once you've figured out the 'what', next you'll need to decide the 'where'. The panelling's placement is just as important as the design. Luckily, it's hard to get this step wrong since decorative panelling is a valuable addition to any room. Shaw says there's no real limit to this fabulous home feature, his list of locations including "entry[ways], hallways, bedroom feature walls, lounge rooms, [and bathrooms]". "… I have used it in all areas externally and internally, even on crafted fences."
Of the more interesting designs this master craftsman has created, an "entire stair void and entry" has been the most notable. He also adds that bathrooms are often a source for unique design and Shaw has completed these spaces in a broad range of styles, "from white-painted Hamptons wainscoting to cedar-lined walls and ceilings."
While you don't need to worry about whether it's appropriate to add panelling to the room-in-question – from kitchens to bathrooms and everything in between, rest assured it'll work – it is important to consider which design will suit which room. Shaw elaborates, "The panelling or feature should be selected on how you live in that room or what period your home reflects, [for instance] Hamptons, coastal, or heritage period work."
In terms of the 'where', dare to look beyond the walls and incorporate the panelling in other parts of the house, such as the doors, shelves and ceilings – decorative panelling looks fantastic "anywhere you take your design wish list".
A LITTLE TIMBER LOVE AND CARE
Decorative wall panelling and wainscoting can easily be applied during a home renovation if this is a feature you'd like included in your existing house. Alternatively, if you're in the midst of building a new home, speak with your construction and design team to see how they can work this in as they go. "Set out is important and knowing how to cut and finish the timber is important," Shaw says. "Laser levels are an essential tool and a qualified carpenter and joiner makes the difference to the craftsmanship."
Shaw adds, "If you are looking for a specialist-style carpentry and joinery, make sure that the contractor is a specialist in that area of application and holds a qualification that reflects that trade." Some builders and building designers will be better able to achieve your dreams of elegant panelling than others, so it's best to do your research before locking someone in for the process.
Abundant with character, filling homes with warmth and interest, decorative wall panelling should be in every homeowner's plans. Whether you prefer the classic aesthetic or the fresher take on this traditional feature, there's truly something for every taste.
Images credit: Real 2 Reel Photography
Images courtesy of The Craftsman and The Draftsman