Choosing to custom-design your new home provides the opportunity to create a residence that is stylistically dynamic or distinct.

Greg Hendy, the design manager for Millbrook Homes, speaks with Pamela Hale about the essential elements to include in a modern Australian abode.
Perhaps the most significant benefit of custom-designing a residence is the freedom it affords; every aspect of the property can be carefully thought out, and unique needs can generally be met with minimal difficulties. Here, Sydney Home Design + Living explores the central considerations associated with the process of custom-designing a home.
THE CASE FOR CUSTOM
It is quite common for homeowners to begin considering a custom-design when their search for a pre-existing residence becomes problematic. "By building your own home, whether on an empty block or as a knockdown-rebuild, you are more likely to be able to live in the area you like," says Greg Hendy.
Beyond allowing you to choose where you want to build, an attractive benefit of a custom design is its ability to be fully personalised. "A custom home affords you the opportunity to design a living space that fits your needs today, while also taking into account whatever surprises your future might hold," Hendy says. "Many homeowners love being able to select every single element and fixture of their home, right down to the fireplace."
Customisation can be particularly beneficial if you have an unusual block of land. For instance, if you're building on a narrow block, it can be tricky to create an interior environment that feels light and open. With a custom design, narrow spaces can be optimised to feel larger through carefully designed inclusions such as strategically placed floor-to-ceiling windows and skylights, which can create an effortless lightness that may otherwise be unachievable without a custom approach.
FUNCTIONAL FEATURES
The way in which you use and enjoy your home is influenced quite dramatically by the design of your residence. It's worth taking the time to consider how you intend to use your abode before progressing in order to incorporate the design elements that will suit all your living and entertaining requirements.
"The ability to comfortably entertain your guests can have a huge impact on your quality of life, and building a custom home is the perfect opportunity to accommodate your hosting strengths," says Hendy. "Build a custom terrace or garden that accentuates a barbecue pit, or an in-ground pool. Turn a standard living room into an overflowing entertainment area, or build a kitchen large enough to comfortably cook for the entire extended family."
Moreover, the way in which your home appeals to you specifically, both in aesthetics and function, can be enhanced exponentially through a custom design. Similarly, every property will have different elements that, when properly responded to, can improve the appeal of your home. Internally, statement inclusions such as in-built fireplaces, fish tanks, or feature staircases can give your home some tangible wow-factor.
If you're intending to capitalise on any views your property offers, the levels of the site should be taken into consideration during the initial design process so the residence can be built accordingly. Hendy recommends careful planning in this respect: "it is unlikely that you will be able to optimise views from all areas of the home, so determine what areas are most important, such as outdoor entertaining areas, living areas, and other high-usage areas, and focus on these. This will help shape the layout of the home and determine the optimum size and location of windows."
The incorporation of site-specific and feature design elements can make an immense difference to your finished home, so it's vital to get them right. However, it is important to consider all of these factors before progressing to the building stage for financial purposes, as "budget blowouts are often caused by the client making amendments to the original design plans", Hendy says.
GOING GREEN
"There is a growing trend across the country towards building green, which is fantastic," Hendy says. Within New South Wales, the move towards eco-friendly living has been supplemented by the implementation of legislated sustainability targets for all new residential constructions.
There are numerous ways, both active and passive, that new homes can be designed to achieve environmental friendliness, energy efficiency, and overall sustainability. Hendy lists using sustainable building materials, installing insulation batts in walls and ceilings, selecting energy-efficient appliances and going solar as just a few of the most common ways to improve overall eco-friendliness in the home. "These inclusions are just the starting point though," he explains. "Generally, we are seeing a growing consciousness around sustainability and many more people are looking at ways to improve their homes beyond just meeting the minimum sustainability requirements."
Hendy also recommends that any new custom home be optimised to promote passive heating and cooling through its design, and encourages upgrading your glazing on windows and doors. "All great contemporary home designs feature expansive windows and doors," he says. "However, while floor-to-ceiling windows create an amazing feeling to the home, all the additional glass makes controlling the internal temperature of the home difficult.
Upgrading the glazing in your home can be expensive, but if applied in the right locations, can make a major difference to the experience you have living in your dream home, and is a worthy investment."
ON TRENDS
Trend-driven designs, both interior and architectural, ought to be carefully considered before being implemented; due to their ongoing fluctuation, total reliance on trends can lead to a dated appearance with time.
There are a number of standard trends in architectural design, with open-plan structures, an emphasis on natural lighting; the use of sustainable building materials; and unusually shaped structures proving quite common in contemporary homes. When it comes to custom-designed residences however, Hendy notes that architectural trends are of less concern. This is because homeowners are likely to have considered exactly what they want from their home and know from the outset what the intended outcome is.
Regarding interiors, it is important that all elements are considered from the initial design stage to ensure a cohesive outcome for your home. "You always have to think about whether you have chosen features that will become outdated quickly," Hendy cautions. "However, as these are often more interiors-based, they can usually be rectified simply by changing paint colours or swapping out furniture."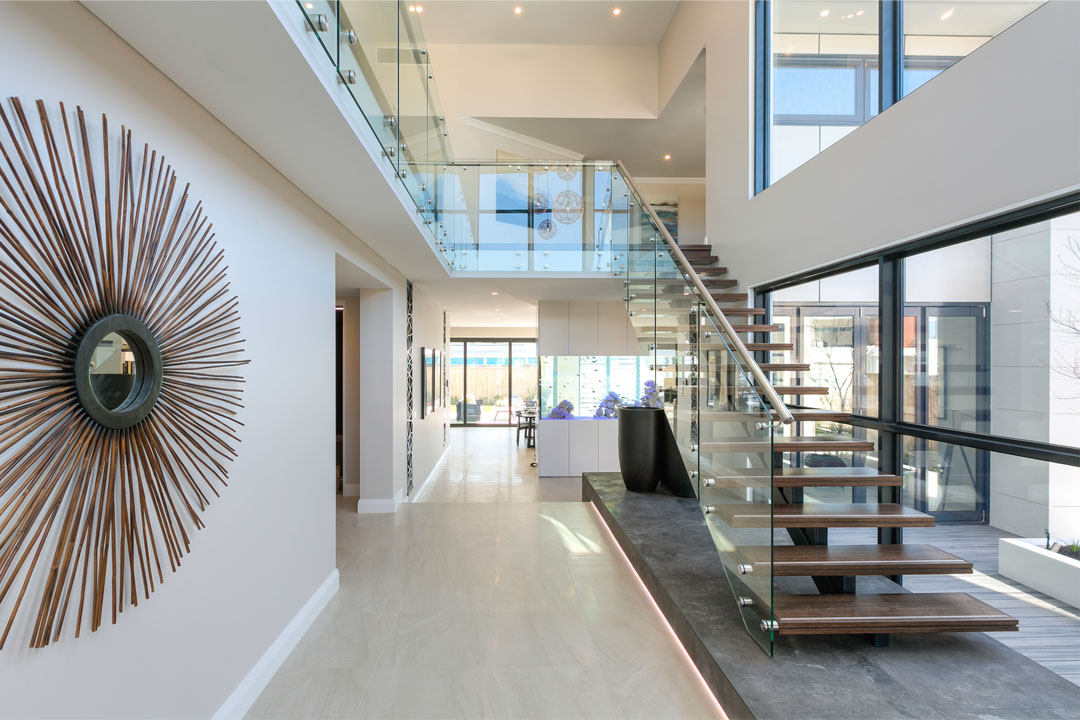 It is recommended that you establish a furniture layout for the residence from the outset; by pre-planning furnishings and their specific placement in relation to doors and windows, you can develop a much better understanding of how your house will ultimately look, taking into account the way spaces flow together, and the overarching cohesion of the residence.
STAR TECH
There are certainly benefits to be gained from particular trends, especially those that are technologically driven. "Integrated home technology is one of the fastest-changing aspects of designing a modern home," Hendy says. "Multi-room audio systems, smart appliances, and home automation are all accessible if you are creating a custom design."
If you have the space, why not consider incorporating a home theatre into your design? With the option to fully integrate sound, video, internet, lighting and temperature control systems throughout the entirety of your residence, creating an enjoyable and user-friendly entertainment space suitable for the whole family has never been easier.
Technological advancements can also be of particular benefit during the early design stages. One of the biggest challenges faced by homeowners during the process is understanding how interior spaces and detailed finishes will ultimately appear within their home. Discuss options such as creating a three-dimensional walkthrough with your design team; these can be provided via any device (including virtual reality!) to provide a better understanding of how the finished home will look.
DOLLARS AND SENSE
While there are many benefits to building a custom home, there are some instances in which a custom approach may be inadvisable. The financial aspect is of crucial importance when considering whether a custom design is prudent for your situation.
While there are elements of custom building that can help you save money, it is also an expensive process and many of the larger costs are upfront, while savings will accrue with time. Further, the immediate costs are likely to be higher than building a home off-the-plan or purchasing an existing property. For this reason, Hendy explains that "a custom approach is [generally] inadvisable when building as an investment to sell or rent. While you need to achieve a home that is desirable for the market and meets the site conditions, you can over-capitalise if you're not careful."
Even when building a custom home without any intention of selling, costs still ought to be carefully considered. Not only will your estimated budget influence the design significantly, but you'll need to factor in additional expenses, as well as unforeseen costs that may arise throughout the building process.
"You have to keep in mind that development approvals and architect plans; building on sloping, rocky or unstable sites; and selecting expensive fittings and features can really cause costs to blow out quickly," Hendy says. "If you don't have a solid budget which you have discussed at length with your builder, and some money put away for unforeseen expenses, then you should instead consider a volume builder who can be far more competitive on pricing."
However, should you decide that a custom home is right for you, it's time to get stuck into preparing for the journey ahead, taking care not to rush the process. "Don't be too excited or in a rush to start building without taking appropriate time to consider what you need in the home design," Hendy says. "Spend time reviewing the concept and envisaging how each of the spaces will be used to make sure you have everything you need in the home, and that it will be functional for you."
Choosing to custom-design a home is a big decision, but with the right team in place, the outcome of a bespoke building project can be truly spectacular. Having the opportunity to design a residence that meets your every need and desire provides endless scope for what the interior and exterior of your home will incorporate and the ways in which your space can be optimised to suit you. "For a lot of people this may be a once-in-a-lifetime opportunity, so you owe it to yourself to spend the time to get it right and enjoy the process of creating your dream home!"
Images courtesy of Millbrook Homes