As we traverse a new decade, more and more homeowners are taking the environmental impact and longevity of their dwellings into consideration, and whilst going all out on zero-emission, solar-powered extravaganza is always an option, there are many ways in which you can embody this philosophy without compromising your dream home. Katie Livingston seeks advice from skilled draftsman, Amanda Shaw, director of The Craftsman and Draftsman, about how with clever design and proper forethought, you can create a stunning forever home that is both functional and sustainable.
Written by Katie Livingston.
Sustainability does not mean a compromise in luxury, and often including environmental considerations into your design can significantly increase the liveability and comfort of your space. By working closely with your designer, and putting careful thought into the materials, layout and orientation of your home, you can create a masterpiece that both you and the planet will love.
THE LAY OF THE LAND
Shaw notes that she often begins thinking about sustainable elements right from the initial on-site meeting, and uses this time to asses both the land itself, and the clients requirements and lifestyle. From there she can integrate these needs into the design; "the project is designed to suit the land purchased," she says, "[then we look at] what the client requires and how far we can take these good [design] choices."
Working with, not around, the natural landscape can not only significantly reduce the amount of work and wastage resulting from your build, but can also harmonise your interior and exterior living. The same philosophy applies to those renovating an existing house, and Shaw encourages you to opt for "a design that is married to the existing dwelling without looking like an add on". Making the most of what you already have at hand is a simple yet effective way to increase the sustainability of your design.
MATERIAL WORLD
The materials used on your home can also play a significant role in its durability and climate benefits; opting for natural or recycled materials is a common choice, but longevity and green living go hand in hand and simply selecting components that are less likely to need frequent replacement can still reduce your carbon footprint whilst simultaneously ensuring that your home looks stunning for generations to come.
Discussing her own unique approach, Shaw states "I like to use a mix of materials on my projects, material choices are made [based on] what is the best fit for the house in its natural environment." She says, "[I often choose] a mix of timber lining products, natural timber [and] natural stone sourced from our quarries if I can."
When it comes to choosing materials, for a more eco-friendly composition Shaw encourages you to seek "Australian-made [materials] from regional manufacturers if you can" as this will both reduce the emissions created when transporting your materials and support local businesses.
Whilst local and eco-friendly materials can cost more up front, Shaw notes that "better design choices don't always mean more money", and often putting the time into designing a layout that supports both your lifestyle and your sustainability goals can save you money in the long run by reducing operation and installation costs.
LIGHT WORK
Regardless of the size of your home, Shaw stresses that "orientation is the key" to improving the sustainability of you build. "We always try and position the living areas where you spend the most time on the north side of the house, as this is the warmest part. The east has the morning sun, so bedrooms … or even kitchens work best here." She adds that "the south is the coldest part of the house" so it's best to place areas you won't be spending a lot of time in here, such as garages or storage rooms.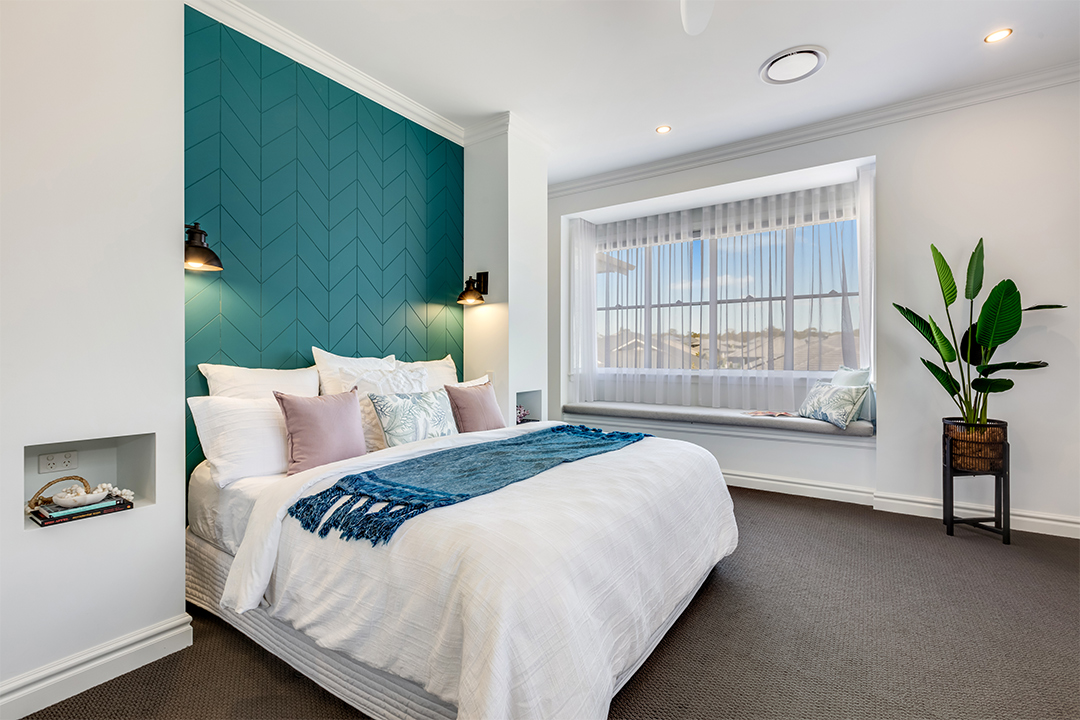 Including plenty of large windows in your layout to catch the sunlight, and incorporating excellent insulation, can significantly reduce the need for heating and cooling and help keep your home at a comfortable temperature all year round.
Likewise, Shaw recommends to "keep laundries, bathrooms [and] kitchen areas together, to ensure [that there is] no lag in the water lines." Thus reducing water consumption. She also recommends taking into account the airflow and cross ventilation of your home when deciding on a layout as "good airflow [makes] the home more comfortable and the temperature stays constant."
GO WITH THE FLOW
Opting for a more open-plan layout within your living areas has boundless profits, both in terms of functionality and liveability, as well as sustainability. With less obstructions, air can flow throughout your home with ease, keeping your space fresh and comfortable, without the need for air conditioning.
With a bit of careful planning, environmental considerations can be easily worked into your home with minimal fuss. Simply by combining clever design with local and natural materials, the home of your dreams can be kinder to our environment, whilst still being the elegant sanctuary you envisioned. Shaw adds that sustainability in homes is "not a new concept, [and that] a good design would always be sustainable." For a forever home that will last the ages and is kind to our planet, trusting in your designer's vision and seeking expert advice will leave you in excellent stead.
Images credit: Real 2 Reel Photography
Images courtesy of The Craftsman and The Draftsman