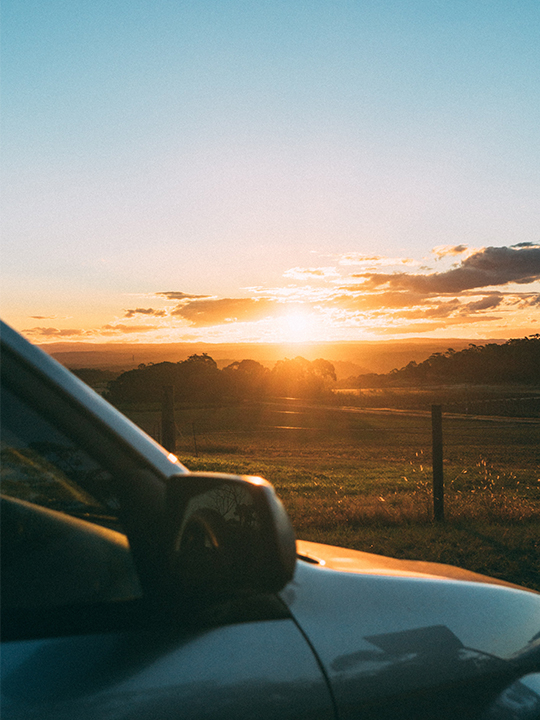 Many of us dream of escaping the rat race that often accompanies city life and retiring to a more peaceful setting where they can immerse themselves in nature. For those blessed with bountiful green pastures and the rugged beauty of native bush, it can be difficult to achieve a garden that rivals the likes of the Garden of Eden and the Hanging Gardens of Babylon whilst respecting the land. Here, Emma Warner Allen discusses how to transform your garden into a manicured, natural paradise with Beau Woodward, director of First Choice Earthworks. 
Written by Emma Warner Allen.
GO DOWN THE GARDEN PATH
One of the first things guests will see when visiting your property is your driveway. Despite conjuring images of neat tree-lined rows meandering across the countryside to a grand manor house, there are a range of ways to landscape your residence, though, "a treelined driveway is a simple yet effective way to create a sense of arrival and achieve a stunning home entry", Woodward asserts. For those considering this option, dogwoods, purple leaf plum, red maples, crape myrtle and birch trees have striking leaves and blooms that will look exceptional with the changing seasons.
Tree-lined or not, the best way to achieve a seamless look that does not detract from the surrounding natural beauty is "to follow the contours of the existing land, making it flow and feel natural instead of carved and constructed." The landscaping expert qualifies that while this holds true for most, "it depends on the feeling you are trying to create as you drive towards the house." For those seeking an open, relaxed feel a tree-lined driveway is an excellent option, whilst those seeking a warm, cosy feel may prefer placing "shrubbery or hedges along either side approximately half a metre to a metre from the driveway edge and installing brick or metal edging along the driveway."
Sadly, also invoked when imagining country driveways are uneven roads peppered with potholes. To ensure that your driveway endures the rigours of country life, tarmacking remains the best. "Regular maintenance on a gravel road will ensure you stay on top of potholes and general wear and tear created by traffic", though this can be a time and labour-intensive option. At a minimum, "if tarmacking isn't in your budget, you are best to use a road base material in varying sizes and ensure you place a crown within the road surface to encourage water to run off the driveway effectively, preventing the pooling of water which causes potholes", Woodward advises, though special care should also be given to under-road drainage and compacting the road base.
AIN'T NO MOUNTAIN HIGH ENOUGH
With New South Wales renowned for its tumultuous terrain, ranging from the Blue Mountains to the towering Mount Koscuiszko, many acreages will be set on a sloping gradient. If you are at the hill's pinnacle, as with driveways, it is best to follow the land's natural contours for guidance. It is relatively easy to 'section off' and flatten areas of your garden using retaining walls and there is a large variety of cost-effective ways to achieve a quality result that fits your desired aesthetic. "Creating layers in your garden is a great way to use the land", Woodward concurs. One such way to do this would be to, "construct steps down to a courtyard to make the garden practical and inviting to guests."
If you find your property resides at the base of a hill, it is only natural that a different approach will be needed. While retaining walls may still be applicable, homeowners will "need to have a great drainage management plan to ensure proper run off of excess water" the industry professional explains. "Between the use of drainage management and retaining walls, you will successfully manage any flooding and landslides. You can also stabilise the slope with materials to prevent landslides where necessary."
GREENER PASTURES
When surrounded by beautiful, unadulterated countryside, it is important to construct a garden that enhances the surrounds rather than detracting from it. Woodward elaborates, "in our experience, particularly here in the Southern Highlands, we have found that country residents take great pride and care in their homes and gardens. It really is understandable given the unique and often spectacular natural landscape that surrounds us across the region. By taking care and focusing on the detail, country residential landscaping can enhance and become an extension of the natural vista."
When attempting to create a garden that can be likened to the quintessential English gardens, it is important to consider the scope of the area. "Landscaping country properties is really about getting the scale right. Typically, we find that country landscaping projects really do require careful planning and funding as they will often require significantly more materials, drainage, water management, shaping, and hard and soft landscaping treatment than a large suburban house garden. Property owners do not want to take the focus away from their natural country views. Instead, they want to work with and complement the surrounding areas", Woodward notes.
LEAVE ROOM FOR NATURE
While it may seem bizarre to consider leaving a designated area for wildlife in rural Australia, it is important to remember that landscaping often leaves very little room for animals to reside. Many find that leaving a nature strip also helps to prevent unwanted guests appearing within your property as it gives them a space to live in harmony with you. Additionally, "leaving a nature zone on your property is a great decision as this helps maintain the balance between cleared land areas and the natural habitat on your property. This has been found to improve the fertility in the landscape along with providing water and soil management. It is also lovely to watch the wildlife and see them thrive in their habitat. Property owners are becoming more aware of their personal impact on the environment, which is why I feel 'nature zones' are becoming more popular", the expert notes.
Another way to welcome nature into your property is to install a nature pond. "When correctly installed, a nature pond is a great low-maintenance look for your property", Woodward agrees. "A natural pond should look and function as if nature had designed it. The real benefit of this kind of pond is that it requires virtually no maintenance. After adding water and plants you can sit back and enjoy it."
Ultimately, when creating a rural landscape homeowners' can enjoy the benefits of ample space to craft a luscious haven, and with a range of different options available it is always best to speak with an industry professional to see how best to utilise your land.
LET ME ENTERTAIN YOU
If a home theatre is in your sights, home automation might just be the thing to enhance your movie-watching experience. "We create custom automated scenes for our clients, so one touch of a button creates the perfect cinema environment," Carter explains. "For example, 'play movie' scene will unroll the projector screen, power up the sound system, automatically adjust the volume to your preferred setting and dim the lights as the movie begins." Likewise, when the movie has finished, a simple press of a button will shut everything down. It can't get any easier, or more impressive, than that.
This is just one example of how home automation can do all the work for you to take a normal home experience – such as watching a movie, cooking a meal or getting ready for bed – to the next level. For Carter, this is only the beginning. "Right now, smart home technology is better than ever, and it will continue to improve and evolve. I believe all homes in the future will be automated as we move towards a focus on homes being more energy efficient, secure and more relaxing to spend time in."
Images courtesy of First Choice Earthworks and Unsplash