There's a reason why kitchen and bathroom renovations are the most common requests when it comes to home makeovers. Standing as a calm and relaxing environment, your bathroom is a sanctuary where we can ruminate on the trials of the day and wash away its rigours, leaving us feeling fresh and reborn. For such a soothing space, muted tones promote this atmosphere, and the use of concrete can really elevate your bathroom's aesthetic to new heights. Here, Emma Warner Allen discusses the benefits of incorporating concrete elements into your bathroom with Wanda Duggin, head of marketing for Highgrove Bathrooms.
Written by Emma Warner Allen.
Founded in 2004, Highgrove Bathrooms prides itself on delivering the highest quality designer bathroom, kitchen and laundry products at wholesale prices. With a huge range of luxury fittings available across Australia, the team strives to be "at the forefront of bathroom design, innovation and technology [and does this by] closely monitoring both local and international trends within the industry", to ensure that Highgrove Bathrooms sources the very latest sustainable products, fittings and accessories to help you create your dream bathroom. The company's latest range, CRETE, draws inspiration from the Greek Islands and utilises the latest in concrete style and technology to help homeowners add a sleek, contemporary flair to their interiors.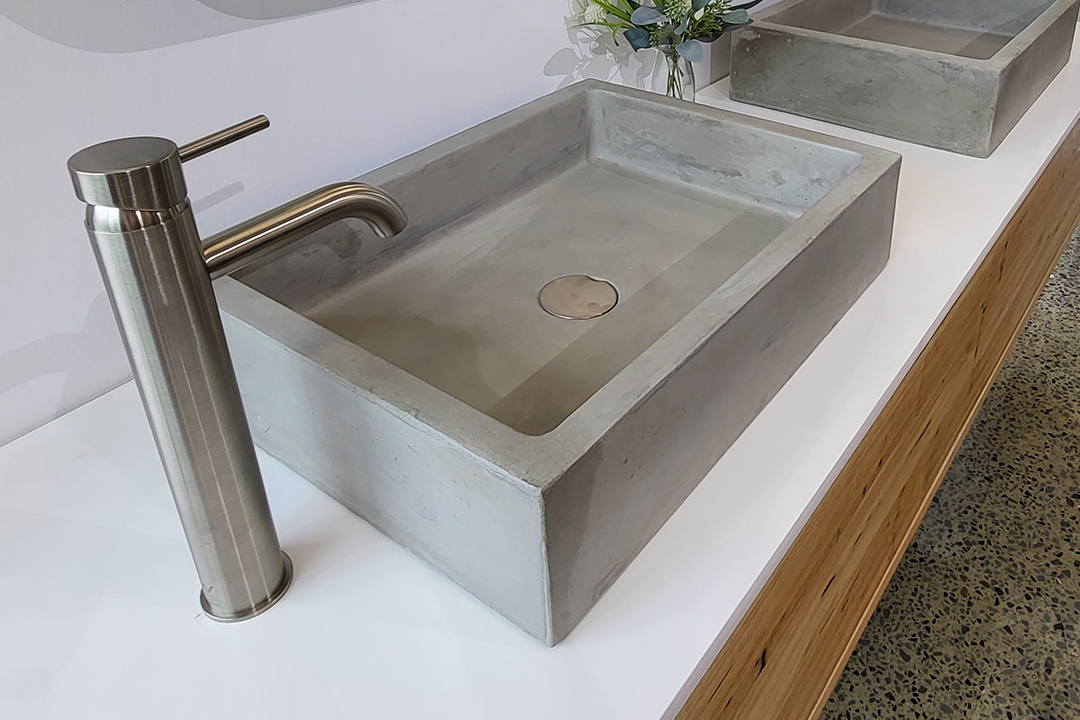 THE CONCRETE FACTS
Whether you are seeking a chic minimalistic look à la Kim Kardashian's bathroom or replicating a swanky industrial loft in Manhattan, concrete's warm, muted tones make it endlessly versatile and able to adapt to a range of different spaces and styles. "Concrete products offer a wide variety of applications. From basins to baths and vanity tops, they are edgy and unique, tactile, hardwearing, hygienic, easy to maintain and complement most spaces," Duggin asserts.
It is perhaps for these reasons that concrete has firmly stamped its place in the modern home. Whether you are seeking a striking accent piece or a clean, contemporary feel, concrete has solidified its place in both our hearts and our homes. Its effortless applicational agility has seen this humble material utilised "in bathrooms, and even kitchens, across the globe", and its understated nature makes it the perfect choice "for a variety of styles, including farmhouse, industrial, modern and contemporary".
Additionally, "Concrete is incredibly durable and when used for basins, it makes the room look bold and highly attractive," the expert asserts. Due to its resilient nature, concrete is an excellent option for homeowners seeking a bathroom renovation that will stand the test of time. The low costs incurred when producing concrete make it "a popular choice in Australian bathrooms".
I LIKE YOUR STYLE
Following the events of the past two years, people have sought to invite nature into their homes more than ever before. Concrete's muted colour palette fosters a symbiotic relationship with biophilic design principles as its soft colours perfectly complement natural forms and allows them to take centre stage. Standing as a testament to this, "Combining timber and concrete allows you to create a modern and urban atmosphere in your bathroom spaces. Pairing those with matte black tapware or brushed brass complement this style of product," Duggin elaborates. And Highgrove Bathrooms latest range CRETE adheres to these principles by combining "the latest in concrete style and technology to evoke a sense of grandeur whilst remaining true to a pure aesthetic and organic form."
When designing your space, seek baths, basins and vanity tops that are refined and organic in shape, and edges that are soft and streamlined for a striking design that remains romantic. Speaking to this style's versatility, Duggin notes that these properties suit "dark and moody designs" but can also work exceptionally well as a "statement piece to complement a classic white space". "Raw materials, and black accents and highlights have been highly on-trend for the last couple of years and we continue to see them being used across a variety of bathroom décors," the expert continues.
FORM AND FUNCTION
While its proven that being in nice surroundings improves your mental health, it's important that the design is not just attractive, but is also functional. All Highgrove Bathrooms' "concrete baths and basins are sealed to ensure they last for years to come. Like any other porous material, concrete products may require minor maintenance," the bathroom specialist notes. Though maintenance is simple and is only required "every six to 12 months using a flooring wax depending on usage. When properly sealed concrete basins, baths and tops are easy to maintain."
Redesigning your home can be likened to assembling a jigsaw puzzle. Before embarking on your renovation, it is best to envision how each constituent part will fit together both with the overall look of the bathroom and with each other. "When it comes to designing your next bathroom, the most important thing to consider is functionality, and using materials that best suit your lifestyle," Duggin asserts. Given concrete's durable nature and effortless flexibility, incorporating concrete into your bathroom has never been easier and is a sure fire way to add character and interest to this space.
Regardless of your stylistic preferences it is always best to speak with the professionals, such as Highgrove Bathrooms. Armed with an arsenal of experience and knowledge, experts can guide you through the design process to ensure your space is beautiful and functional.
Images courtesy of Connected Audio Visual