The size of the dwelling in which you reside need not dictate its functionality, flow and sense of style. While not each abode is blessed with soaring high ceilings or an excess of space, deliberate stylistic choices, clever manipulation of lighting and multi-purpose storage units can help transform your humble dwelling into a heavenly haven; one that is as liveable and practical as it is beautiful. Bethany Hayes speaks with Cassy Kings, general manager of Edgecliff Homes, and seeks her advice on evoking a sense of luxury within the home, when starting from the very basics.
Written by Bethany Hayes.
While the thought of living in a spacious, double-storey abode is certainly inspiring, smaller, more modest dwellings can share just as much appeal – especially when utilising a clever layout and distinct interior design choices. For Cassy Kings, whose Edgecliff Homes' team has worked on some of New South Wales' most impressive homes, the key to making your abode something truly special is to incorporate an open-plan living layout wherever possible, and not being afraid to embrace a style that feels authentic to you.
LET THERE BE LIGHT
You may have heard it all before, but when working with a modest-sized home, natural light is the key to giving the illusion of extra space; it adds an air of clean, crisp openness, and an undeniable sense of calm. Bearing in mind that non-hues attract light, a white or bright, neutral colour scheme can effectively make your room appear bigger than it is, and transform it into a warmer, more inviting space. "I am a strong believer in a natural and timeless palette throughout homes; it's a colour scheme that will never date, and always makes your spaces feel big and airy," Kings explains.
In particular, Kings coins the use of "soft and light colours" as effective when softening the overall feel of the home, and removing any harshness that a bolder colour might instil. "Shades of white or light greys will always help the room feel clean and crisp," she details. "You can further this look by selecting a light-coloured flooring, [which] can help soften the home again and make the floor-to-ceiling ratio seem even larger." Renowned for its sense of style, and liveable luxury, Edgecliff Homes is no stranger to pushing design boundaries, and Kings encourages readers to do the same – because that's where the magic happens. "When designing my homes, I love to embrace a style and go all out on it," she remarks. "I have designed coastal Hampton homes, with full shaker-profile kitchens and bathroom vanities, to modern, industrial homes with the use of metal balustrades and concrete-look tiles," Kings further elaborates. "It is so much fun playing with colour and pushing the design boundaries."
OPEN-PLAN OPULENCE
Allowing a seamless flow and simple transition between the most communal parts of the home, an open-plan living space within the home is one of the most effective ways of making any dwelling – small or otherwise – truly liveable, and is also complementary to the modern lifestyle and accommodating for social gatherings. Coined by Kings as the place "where you spend most of the time living in your home", an open-plan living space is "key when designing the layout of your homes". Take into consideration how many people you reside with, and the feel you would like your living space to evoke. "It is important to think when designing your open-plan living [space] on how you live in the space as a family. I always suggest to my clients to make the kitchen the heart of the home and base the open-plan living off this space; so the family can always be together, especially when you are entertaining," Kings explains.
If you're not afraid to renovate, adding an alfresco dining space can bring an opulent and useable feel to any abode, not to mention will also deliver a seamless transition between indoor and outdoor spaces. "Extending a deck or alfresco off your main living/dining area will allow you to physically bring the outside in and expand your open-plan living area at the same time," Kings says. She notes that if you are in a position to remove existing walls, "then don't be afraid to do it!" "Walls create physical barriers and stop the natural flow of a home. By removing or creating half walls you will transform the space and add volume."
A LITTLE TASTE OF LUXURY
When it comes to making any room appear larger, less is always more in terms of objects and furniture. "Keep the room minimal," Kings affirms. "Remove the clutter, keep clean shapes and lines and your space will instantly feel larger and more open." If you're looking for a simple way to bring a pop of extra light to your abode, well-placed and well-sized windows throughout the home will help capture the light, and can also offer extra ventilation, and a "clean, fresh atmosphere".
To add a sense of colour, texture and interest to a space, consider adding a feature wall within your home, which Kings affirms as being "perfect to make a statement". "We have recently seen a huge demand for Tongue & Groove wall panelling, which adds a sense of luxury to the place, without an expensive price tag." If your home has heavy drapes, and lacks natural light and lustre, consider removing the drapes and opting for roller blinds with sheers, for a much softer feel and to allow natural light to flow through the home more effectively, not being bound by heavy material.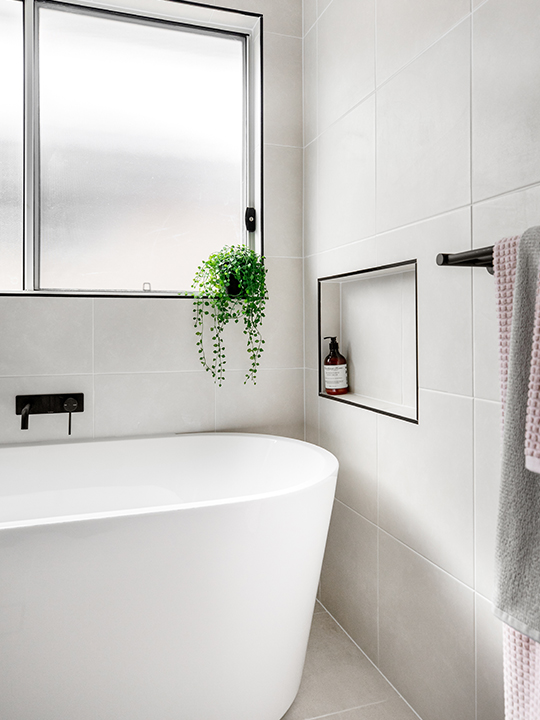 As the entranceway to the home, your front door also has potential to transform the home's essence and establish what kind of home awaits the visitor – whether it be something modern, or even something of heritage charm. "For the [home's] front door I would choose a door that has a lot of glass in it, to allow the natural light to flow into the entry. For internal doors I would choose a door that is very simple, crisp and painted white. Your goal is make these blend in and not be a focal point for your eyes," Kings agrees. Meanwhile, to add an extra essence of grandeur to your home, consider tiling the ceiling! "One of my favourite things to do in a house is tile to the ceiling in all the wet areas. This creates a real sense of luxury to the bathrooms. It also allows you to create stunning feature walls which brings the personality to the space."
No matter the size and scale of the home, there is ample opportunity to transform your humble abode into something grand, stylish, and fitting of your lifestyle and preferences. While trends fluctuate frequently, utilising clever sources of natural light, removing clutter and embracing an open-plan style can encourage ultimate ease-of-living. "Functionality and practicality are essential but always remember you don't have to compromise on your style," Kings advises.
Images courtesy of Edgecliff Homes