Designing your 'forever' home can be a daunting process. The design needs to be tailored to your current lifestyle, with the flexibility to adapt to your changing needs later in life. Emma Phillips speaks to Denis Carroll, the director of Horizon Homes, about the key considerations you'll need to take into account when designing a home for a lifetime of leisure.
You've found the perfect block of land on which to settle, and you're ready to take on the challenge of building the home where you'll create wonderful memories for the rest of your life. With the help of an industry professional, you can achieve the best design and style solutions to create a beautiful home that can easily adapt to your evolving needs. It's vital to seek trustworthy advice when planning something as important as your forever home. You'll want to create living spaces that will last for many years to come, with the flexibility to change in correspondence with new trends and lifestyle developments. A reputable industry professional will be able to guide you through the entire building process and help you make all the tough decisions.
Somebody To Lean On
Designing a home that you will live in for decades is a big commitment. You need to be sure that you are making the right decisions for yourself, and for your family. "When putting your design brief together, consider your current lifestyle and how your family will develop in the years to come," advises Denis Carroll. "[We will work with you to ensure] you'll need to make little to no structural modifications to your home later in life." Choose a professional company you can trust to keep your best interests at heart and guide you in the right direction. Once you have met with your designer, they can begin to develop an understanding of your needs and what you're looking for in a forever home. According to Carroll, one of the biggest
hurdles you'll face is deciding on the main features you'll want to incorporate into your design. You'll need to consider functionality, as well as comfort. "[For example], if you have young children, consider a layout that can be easily customised when they become teenagers," he says. "You need to understand what you require from your home and visualise which design elements will work best for your lifestyle." Your forever home is one of the biggest investments you will make, and you don't want to look back and regret spending large amounts of money on something you'll eventually outgrow. Speak with your builder about your budget, the key features you'd love to incorporate into the design, and how these can be appropriately transformed as the years go by.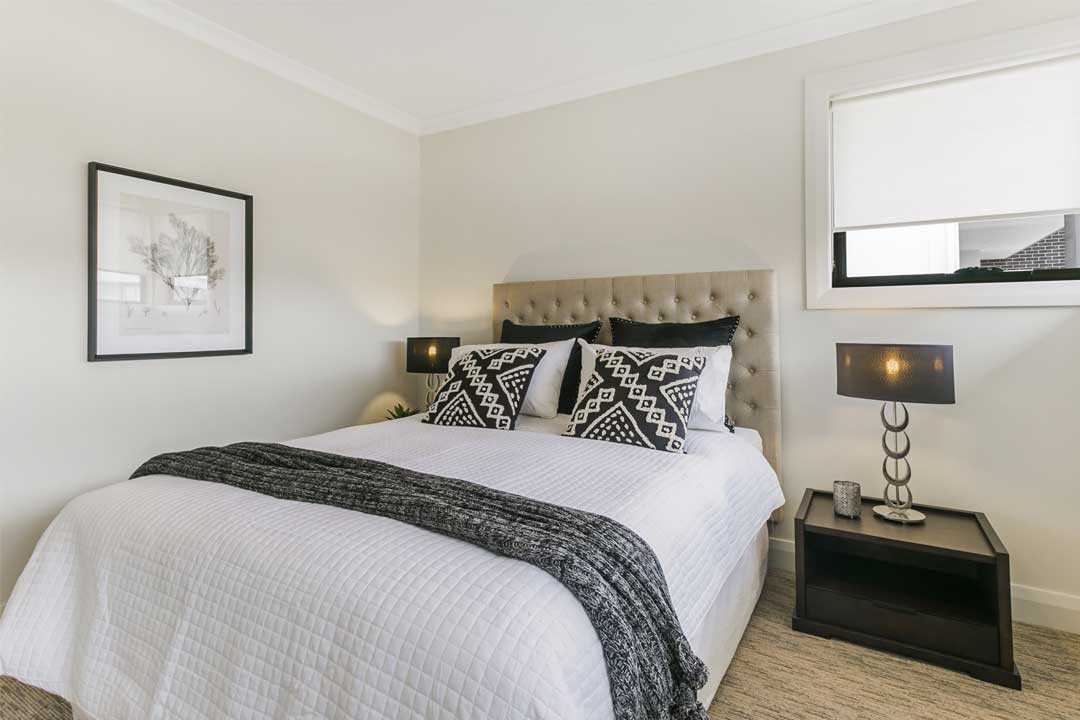 When choosing the colour palette for your forever home, you need to set some boundaries to keep the design manageable and realistic. Bold paint choices for your walls may not be the best option. Instead, consider incorporating bright pops of colour with easily interchangeable décor items, such as wall art, rugs, cushions or throws. This way, you can easily alter the style of a room with little expense or effort, whenever you like!
Materials Matter
Selecting materials to incorporate into your home can also be a complicated process. Sit down with your designer or builder to discuss your options and the durability of the materials available. You'll need to ensure they will stand the test of time, with the ability to be easily modernised. Use simple tiling in your bathroom and select clean tones that will be easy to maintain. A neutral colour scheme will ensure your bathroom upholds a sophisticated look for years to come. Incorporating an undercover outdoor entertaining area is a must in Sydney. "A roof or some form of cover will ensure the space can be utilised all year round," Carroll says.
Let There Be Light
Your forever home's lighting is another element that needs to be thoroughly considered. Lighting can change the mood of a room in an instant and creates a welcoming atmosphere when implemented correctly. "All lighting should be [fitted with] energy-efficient LED downlights," advises Carroll. Thoughtfully-selected outdoor lighting is equally essential when planning your forever home to ensure the safety of your family. "Low-level lighting is recommended for all access paths in your outdoor space," says Carroll, who also suggests installing motion-detector switches.
Eco-Friendly Living
Environmentally-friendly design features can make a forever home more sustainable in the long term and reduce the cost of living. There are many different eco-friendly solutions that can be added to your home, so it can be hard to know which ones are right for you. You'll need to consider all design elements of your
home, including its orientation, window systems, and materials, before committing to an eco-friendly approach. Sitting down with your designer or builder to discuss what eco-friendly options are viable for your property is highly recommended, as they may suggest options you hadn't even considered! Carroll recommends that you consider your specific site conditions when designing your eco-friendly home. "You should position your windows to utilise cross-ventilation," he says. "Installing ceiling fans in all living rooms and bedrooms will also reduce the need for air conditioning. Further, positioning your kitchen and living rooms predominantly to the northern aspect will welcome in ample natural lighting, and reduce the need for artificial lighting."
Room To Grow
There are many things to consider when creating an adaptable room in your forever home, including its layout and size, as well as the locations of the windows, doors and electrical points. Before designing the room, try to predict what it will be used for later in life, as it will need to be able to serve its current and future purposes. Transforming a study into a spacious bedroom is among the easiest of conversions. "It's easy to remove a desk or joinery benches from a study," Carroll says. "Bedroom décor can be very basic and is simple to add." Speak to your builder about your current lifestyle and where you see yourself in the coming years. If you work from home, perhaps a study would be perfect for your current lifestyle. If you're considering having children in the future, then this space could be easy adapted into a nursery or bedroom when the time comes. Consider designing the space with an uncomplicated layout to ensure an easy conversion is possible.
A Kitchen To Keep
You'll need to find a balance between aesthetics and practicality to achieve a kitchen that will last a lifetime. The positioning of appliances, plumbing fixtures and cutlery drawers is extremely important, as is the benchtop's depth, height and orientation. Changes to the layout can be quiet costly, so it's important to think ahead during the initial design stages. Carroll
recommends designing a kitchen with a simplelayout that provides easy access to each zone (e.g. the cooking and storage areas). This will ensure your kitchen won't require any major structural changes throughout the years.
Flush Design
The bathroom can be one of the hardest rooms to design in a forever home. You'll need to consider how many of them will be included in the design, how many people will be using them, and how they'll be accessed. Selecting the fittings can also be complicated; make your decisions based on your lifestyle, stylistic preferences, and the general colour palette of your home for visual cohesion. "Providing a bathroom on the ground floor with a shower, basin and water closet is essential [in your forever home]," says Carroll. "There may come a time where you require easy access or even wheelchair access to your bathroom. "A doorless and hobless walk-in shower with a handheld shower hose is a great option that provides flexibility," Carroll adds. "Long, lever-style tapware can also be easily added if required." Wall supports should also be added to provide fixing points for future accessories like grab rails.
Easy Access
A major challenge in designing a forever home is ensuring its accessibility will remain optimal in the long term. "Designing a home in which stairs do not need to be navigated is ideal," says Carroll. "This will ensure you have ongoing easy access to every room." It's easy to see why many Australians are choosing to build their forever home; it's a cost-effective way of ensuring you will live in a beautiful, tailored environment for the rest of your life. While there are many readily-available home designs on the market, it's important to customise your new home to suit your family's changing needs. Take the time to sit down with a professional to discuss how you'll create a house to call a home for many years to come.
Images courtesy of Horizon Homes