Home Is Where The Heart Is
Home is the place where you have built a sense of love, warmth and happiness. Perhaps it's not always the building itself, but the hub you've created where you are surrounded by your family and loved ones. No matter what stage of life you're in, it's important to design a house that you and your family can call home for years to come. Here, Jacqueline Foy of Sydney Home Design + Living chats with Toni White, Director of Straightline Studio Co., to explore how to optimise your new home design for family living.
White established Straightline Studio Co. in 2015, aiming to create homes for people that are perfectly suited to their family and lifestyle. The design practice combines practical and innovative residential designs with your needs, ensuring your project is tailored to your budget and lifestyle. Straightline Studio Co. often design homes that are the pinnacle of family-farmhouse style: spacious, light and airy homes. As first-class designers, White's studio flawlessly encapsulates family orientated spaces, being both stylish and accessible. Since starting Straightline Studio Co., White has designed and built her own home as well as welcomed two babies into the world, so she's seen first-hand how important certain factors can be when creating the perfect family home. With the inclusion of spacious kitchen islands, plenty of storage space and large entertainment areas, White's homes are crafted perfectly for the Australian family dream.
IN THE WORKS
In the planning stages, it's important to consider how you move through your space. Consider bedroom locations – do you have young kids and want their bedrooms close by each other, or are your kids older and they would like some privacy and room separation? Another practicality consideration is garage location. How is it positioned in relation to the laundry, kitchen and pantry? White starts by making a wish-list of rooms and spaces her clients would like to include in their homes. "We look at their site and map out the best location of rooms and spaces based on the orientation to ensure the home is filled with natural light and cross ventilation," she notes.
"We always begin by talking about [client's] family and lifestyle," White says. "We talk about everything they would like to include in their home, their lifestyle, how long they intend to live in this home for and their budget," she continues. 
If entertaining is important to the family, for example, she makes sure the kitchen is located close to the outdoor living space and tries to incorporate a servery window. "All of these elements help to create a family-focused design," White says.
OUT IN THE OPEN
For White, open-plan living spaces are integral for a family-focused design, allowing for lots of room for a dining table and a comfortable couch, as well as circulation space around furniture in living areas. An open-plan design is particularly effective for families that want a multi-use area of the home where they can spend time together despite clashing schedules. With the communal areas easily accessible, meals can be prepared in the kitchen while the kids complete their homework at the kitchen bench or family dining table or play in the living space nearby.
Open-plan design also allows for a greater use of space in the home – a cherished and sometimes scarce resource. By not closing off each individual zone and eliminating walls, you're creating a free-flowing space that allows for more light and airflow through the home. One suggestion of White's is raked ceilings. They are not only a great way to balance functionality with aesthetic, but also help to open the space further. "We usually do this in the main living area, creating a bigger sense of space in the room," White says. Working with the site orientation, placing large windows in these rooms also helps with the aesthetic, as well as allowing lots of natural light to fill the space.
ON THE SHELF
Storage solutions are essential for any family-focused design, but in an open plan layout especially. With the innate openness of the spaces letting clutter show, White tries to design built-in effective storage solutions wherever possible. 
If designing a two-storey home, White emphasises the importance of having linen storage on both levels as well as additional storage close to the laundry for taller cleaning items such as vacuum, mops and brooms. "If space allows, we add in a walk-in linen space too, for bigger storage items like suitcases and sports gear," she says, also suggesting mud rooms as an effective design solution to help keep family homes neat and tidy. "We usually locate them close to the entry or garage so they are an easy drop off point when entering the home," White says. "They can be tucked away so they are out of site, or disguised with cabinetry so they blend in," she goes on to suggest.
HOME RUN
To create an adaptable, family-friendly home, you want to build spaces that can change as your family grows. "The ability to close off and open different spaces is good for changing [their] use," White says, also suggesting the inclusion of rooms that can change functions alongside growing children, like activity spaces. "These rooms can be located near the kid's bedrooms as well as be viewed from the main living area," she says. "[They] can be converted into study spaces as the family grows," she explains. White also notes that larger bedrooms are also a good consideration for growing families, as they can accommodate bigger beds and more furniture as kids get older.
In recent years, working from home has become more and more common for families, and home designs have had to adapt alongside this, White notes. "It's nice to have a dedicated space to do this. Media rooms have been replaced with home offices and multi-purpose spaces," she says. With families spending more time in their homes over recent years, it has become more important to consider the spaces that are crucial and the spaces they can probably live without.
Images courtesy of Straightline Studio Co.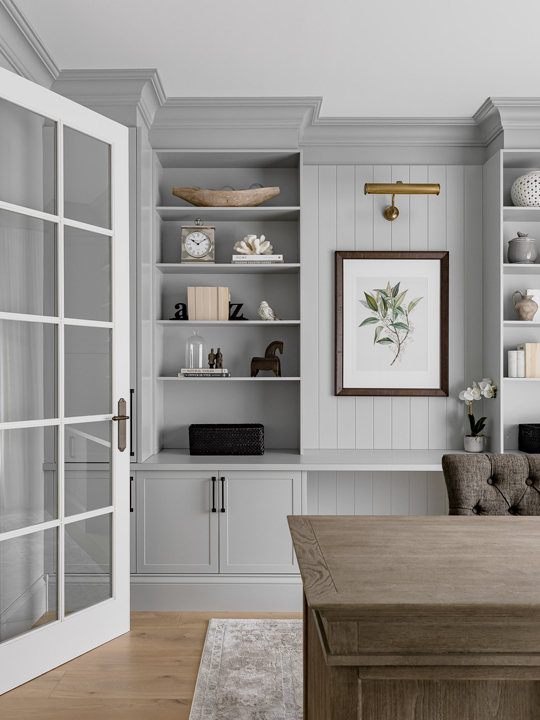 Image Credits: Bolt Media, The Palm Co., Heist Studios.
Courtesy of Straightline Media Co.