When caught in the thick of moving house, or planning the architecture of your new build or renovation, it can be all too easy to leave your home's interior design to chance, whim, or what's easy at the time.

Lucy Mackey talks to Karen March, interior designer for Gremmo Homes, about taking an intentional approach to design and creating personalised spaces that promote a harmonious lifestyle.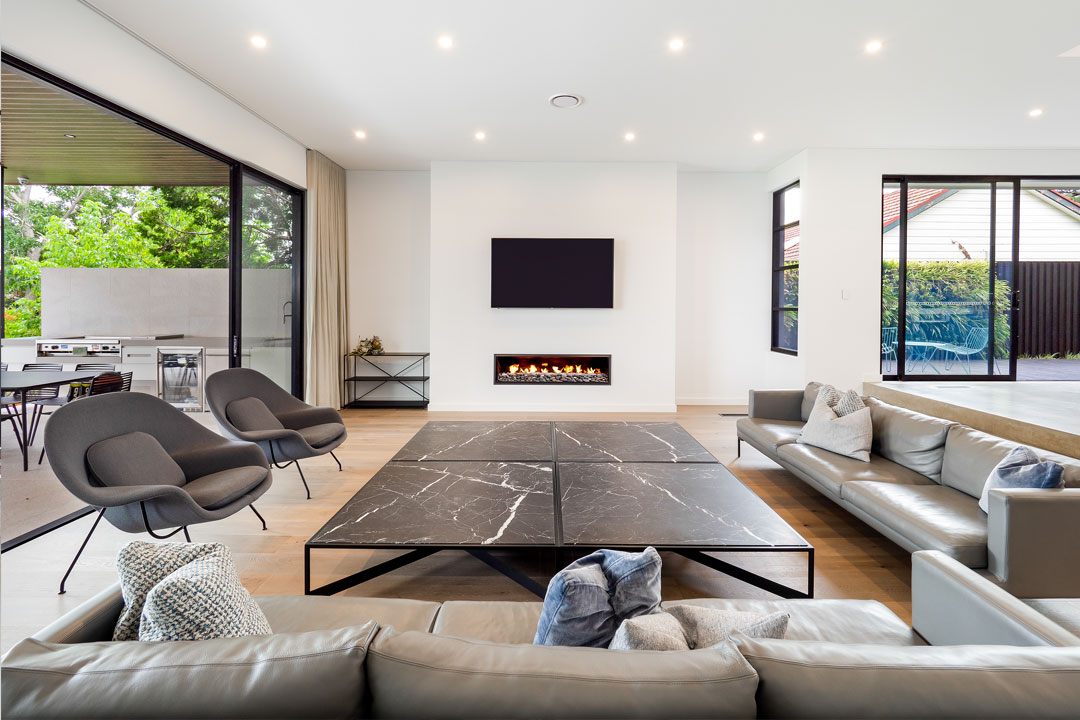 When moving into a new dwelling, it can be tempting to settle for furnishings from your old home, thrown together with on-sale items hurriedly selected at the last minute. Similarly, it may seem easier to make do with existing finishes rather than update the walls and floors. However, the decision to redesign your living space with intent will make all the difference to the experience of your home in the long term.
For Karen March, creating an intentional interior means thinking about its purposes beyond the design brief. Giving thought to everything from your values and lifestyle habits to your budget and existing home will enable you to create a space that promotes an adaptable and uncomplicated way of living, while reflecting who you are as a person.
IT BEGINS WITH YOU
In our busy, work-oriented society, time spent in our homes is essential for recharging our bodies and minds; they are our refuge and the one place we can alter to suit our personal preferences, so it's essential that we do. "Our interiors affect everyday moods and emotions, which is why it is so important to stay true to yourself and completely understand your specific needs within your home," March says.
For renovators who wish to create an intentional interior, March's advice is simple: "Create a vision board which is concise and meaningful; always be clear on your budget; and integrate design ideas, but always return to your initial intent."
Long before you begin looking at paint and fabric swatches, it's important to consider how you and your family will be using the space. This may seem obvious, but sometimes it's easy to become caught up in how we ought to live, and forget what we actually enjoy. If entertaining is a priority, then the space should reflect this, and in turn, if privacy and quiet is important, an intentional interior will provide it.
THE RULE OF THREE 
When it comes to creating your space, March identifies three key principles to guide renovators in their quest for a harmonious interior. First, find order among the chaos. "Investing time in decluttering can initially seem overwhelming," March says, "but this crucial component is the key to creating a successful, practical and workable space." We are seeing a trend towards tidying and decluttering, and for good reason. Clearing away the unnecessary items that find their way into your home will assist in perpetuating a calm and practical interior.
Secondly, with more multigenerational families living together in smaller homes, it's important to make adaptable spaces a priority.
"Create a space that has multiple uses," March says. "With a few clever design choices, a spare room can also be a home office. Versatility is key."
Lastly, it's important to appreciate the power of colour. In 2019, expect trends to shift towards a wholesome connection to nature. Hues that evoke the natural and promote vitality will never be out of place in your home. "A base colour scheme should be carried throughout the whole project, but accents need to be applied differently to various spaces," March says.
WARM AND WELCOMING
With open-plan living, dining and kitchen spaces now the norm for modern homes, "it is imperative that individual zones are created to encourage warmth", March says. Achieving the Danish concept of 'hygge' (pronounced huegah), meaning to create a sense of cosiness and contentment, is the goal within a large and open living space. Palette and textiles will assist in achieving hygge. "Colour is a great tool to identify differences spaces within our home," March says. The kitchen, dining and living room are the hub of the home, and the most likely places for visitors to utilise, so they should display neutral, welcoming tones. March recommends combining mild colours such as Dulux's 'Ecru', 'Whisper White' and 'Bay Leaf' with subtle accent furnishings.
YOUR SOUL SANCTUARY
At the end of a long day, your bedroom is your personal retreat, and has the freedom to be a true reflection of yourself. "With such busy lives, it is incredibly important to eliminate the clamour, and create soothing space for ourselves," March says. When it comes to the colour palette, consider calming blues and botanical greens, offset with strong contrasts like navy or charcoal. "Equally important is to soften the overall palette with warm, earthy hues such as terracotta and blush," March advises. Colours such as Dulux's 'Classic Calm', 'Domino' and 'Italian Clay' are her suggestions.
RESTFUL RETREAT 
In contemporary design, the bathroom has finally caught up to the kitchen and moved beyond pure functionality. "The space must allude to a sense of cleanliness and quietness," March says. To achieve this, keep the floor uncluttered and welcome in as much natural light and ventilation as possible. Be wary of overusing colour in the bathroom; a monochromatic palette lends itself well to this space. Introducing texture in the fixtures and fittings by using organic materials such as stone and natural timber will promote a clean and fresh feel.
By investing time in considering what each room of the house means to you, decluttering your spaces, planning for versatility, and adopting a coherent colour scheme, you can create intentional interiors within your home, ensconce your family and friends in welcoming warmth, and enhance your personal sanctuary all at once.
Images courtesy of Gremmo Homes