Homes in the French countryside have been
inspiring designers around the world for decades.
Emma Phillips speaks to Pat Keenan, the general
manager at Sperway Homes, about the best
ways to successfully balance French Provincial
aesthetics and modern luxuries in your home.
Over recent years we have seen a shift in the way we interpret French Provincial home design. Many homeowners are now adapting the aesthetic with modern styling and taking a different approach to classic design methods. In Australia, we have adjusted the French Provincial style to suit our unique climate and changing land sizes. While classic French chateaux had an abundance of space to work with, Sydney's inner-city lot sizes are drastically different. Homeowners are now focussed on incorporating practical modern luxuries that help to improve daily functionality, while also including classic elements to create atmosphere and unique charm in the home.
BEST OF BOTH WORLDS
French Provincial aesthetics have inspired architects for many years, and it's not hard to see why. The use of decorative wrought iron and natural stone throughout both the interior and exterior of the home is a stunning combination that will continue to stand the test of time. Pairing classic neutral tones with modern design elements will help to create a beautiful home with characteristics that are not commonly found in contemporary designs. Pat Keenan recommends using a combination of ornate carvings and mouldings, and balancing them out with modern furnishings and finishes. "The challenge lies in achieving rustic beauty and elegance, as well as modern luxuries," he says.
SURE TO IMPRESS
It's essential to ensure that the exterior of your home is cohesive and connects with the interior as it sets the standard and shapes the overall design approach. "When designing a modern French Provincial home, pay close attention to the façade," says Keenan. "Inspired by the classic architecture of French country chateaux, a Juliet balconette with iron lacework, unique mouldings, and windows is essential." The façade of your home is the first impression your guests will experience, so it's important to ensure that it flows with the rest of your vision.
COMMON GROUND
The living room is a common space that will be utilised by all family members for many years, so it's vital to create a relaxing and calm atmosphere for everyone to enjoy. Keenan says a polished European-oak parquetry floor in a traditional herringbone pattern is perfect for the French Provincial style as it can be incorporated throughout the entirety of the home to create a seamless effect. It's easy to over-style a space with an abundance of French Provincial features, so flooring is a fantastic way to showcase this unique style, without overdoing it.
Try incorporating French-inspired artwork and furniture to your living zones to complement your flooring. These additions can be easily switched out with minimal expense when the time comes to update.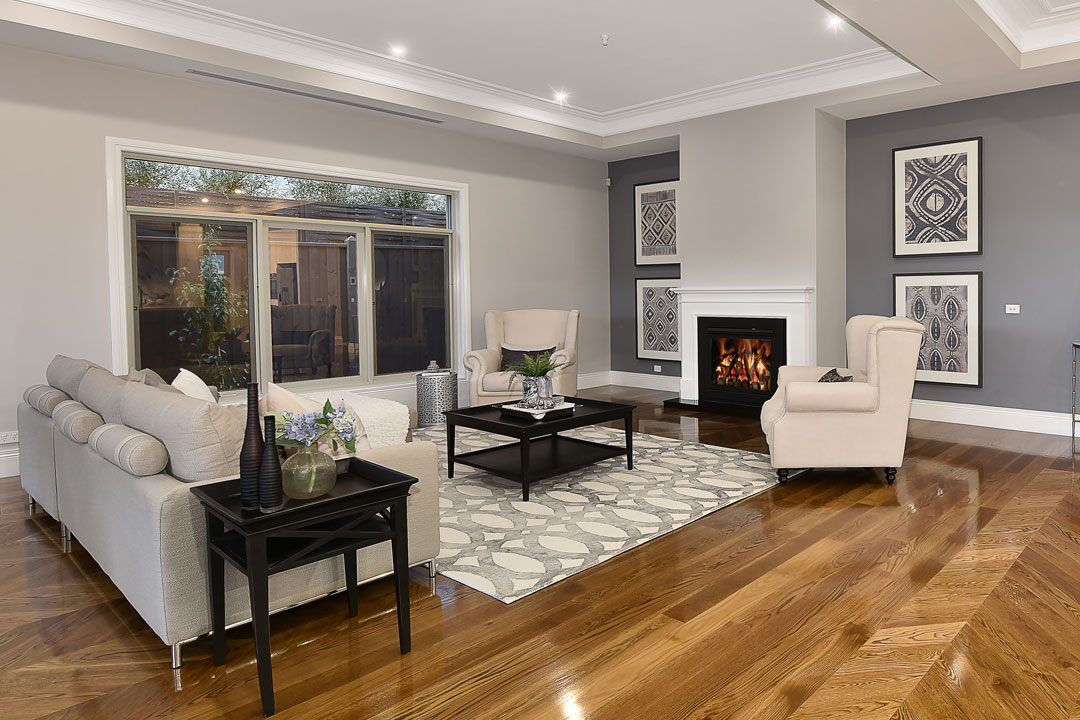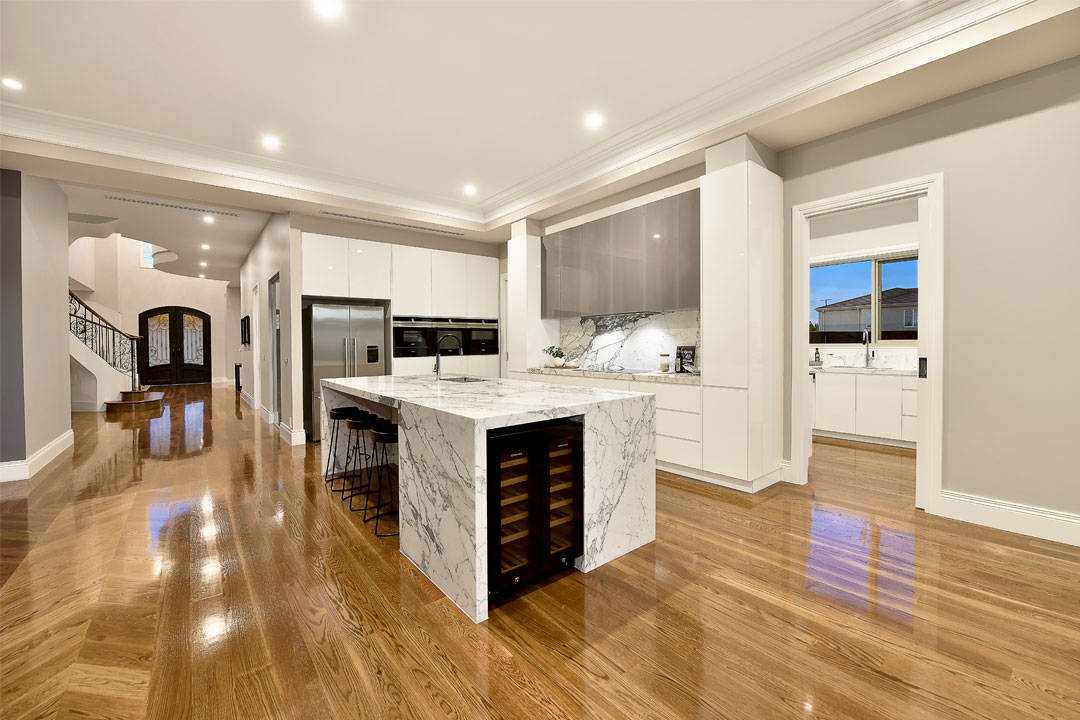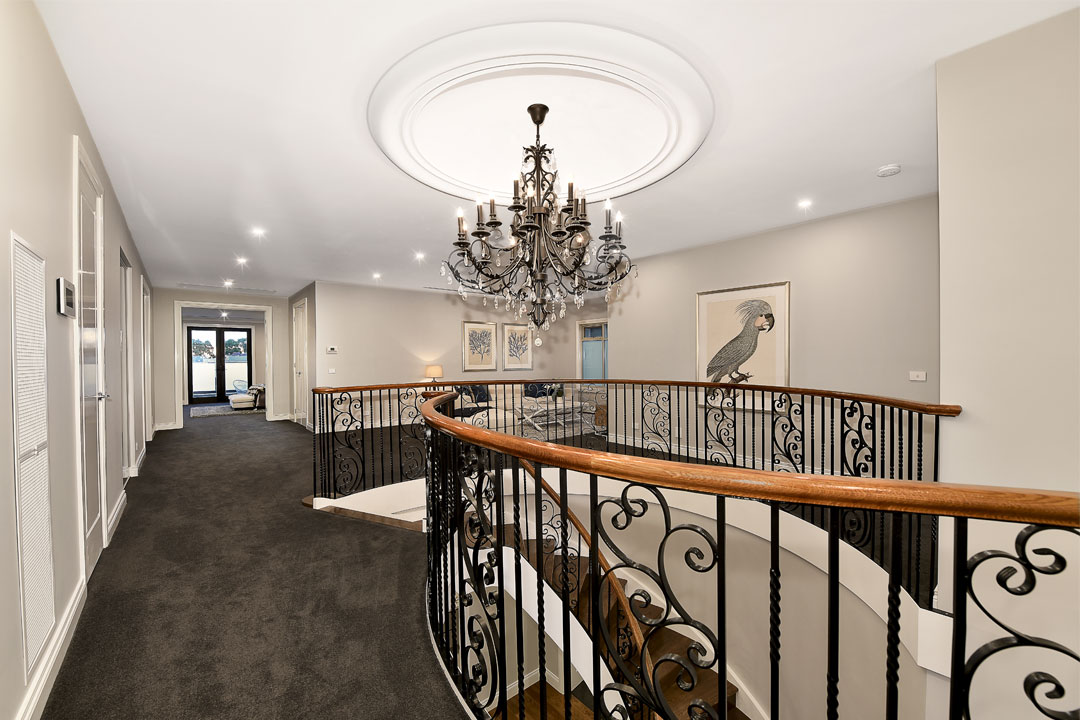 Images courtesy of Sperway Homes
HEART OF THE HOME
The kitchen is arguably one of the most important zones in the family home. You need to ensure that it remains fully functional and practical, while also retaining the French Provincial aesthetics used throughout the home.
"A designer marble island benchtop and sleek white cabinetry
are perfect for a French Provincial kitchen."
– PAT KEENAN
Selecting a key feature and working around that is an ideal way to incorporate a particular style into your home. For example, a farmhouse sink is a beautiful addition to your kitchen and is highly practical for large families, while a stovetop alcove may suit your personal tastes and lifestyle. It's wise to design the space to ensure it works for your needs and then add details and features that form your vision.
A SPLASH OF LUXURY
The main en suite is the perfect space to incorporate lavish features. You can be creative and incorporate elements that match your personal preferences, while also ensuring your space is practical. "A walk-in double shower will create a luxurious feel," says Keenan. "Subtle hints of gold will also add a touch of sophistication."
Neutral aesthetics will tie in perfectly with a French countryside-inspired bathroom. "Large marble tiles in natural tones are perfect for bathroom walls or floors," Keenan says. "A generous-sized mirror positioned above a double vanity unit will also add opulence."
A FINE DROP
Selecting which key features to include in your home can be a daunting process, and the deciding factors are usually your lifestyle needs and available budget. Incorporating a wine cellar is a common choice when designing a French Provincial abode, however this will be wholly reliant on your personal taste. If you're not a wine drinker, this may not be a practical choice, however if you love hosting events, it could be the perfect addition to your design. "A wine cellar is an authentic element to add to a French Provincial-inspired home," Keenan says. "It harks back to the rustic chateaux of the wine regions in the French countryside."
Successfully including classic French Provincial aesthetics to your home can be challenging. It's important to find a good balance between modern practicality and classic stylistic elements to achieve a beautiful and liveable result in the long term. The elegance of French Provincial abodes is unrivalled, and with a considered design strategy, you too can enjoy this unbeatable classic style.