It's only natural to outgrow things in our lives; however, your home need not be one of them. Your first family home is usually a place where many special memories are made, which is why more and more homeowners are choosing to renovate rather than relocate.
Whether you're looking to repurpose that now-empty kid's bedroom or need some additional space for your growing family, Ben Spannenberg, the director of Spannenberg & Son, speaks with Jacqueline Maya and provides expert insight on the considerations for converting unused areas of your home into functional and stylish spaces that will suit your current and future needs.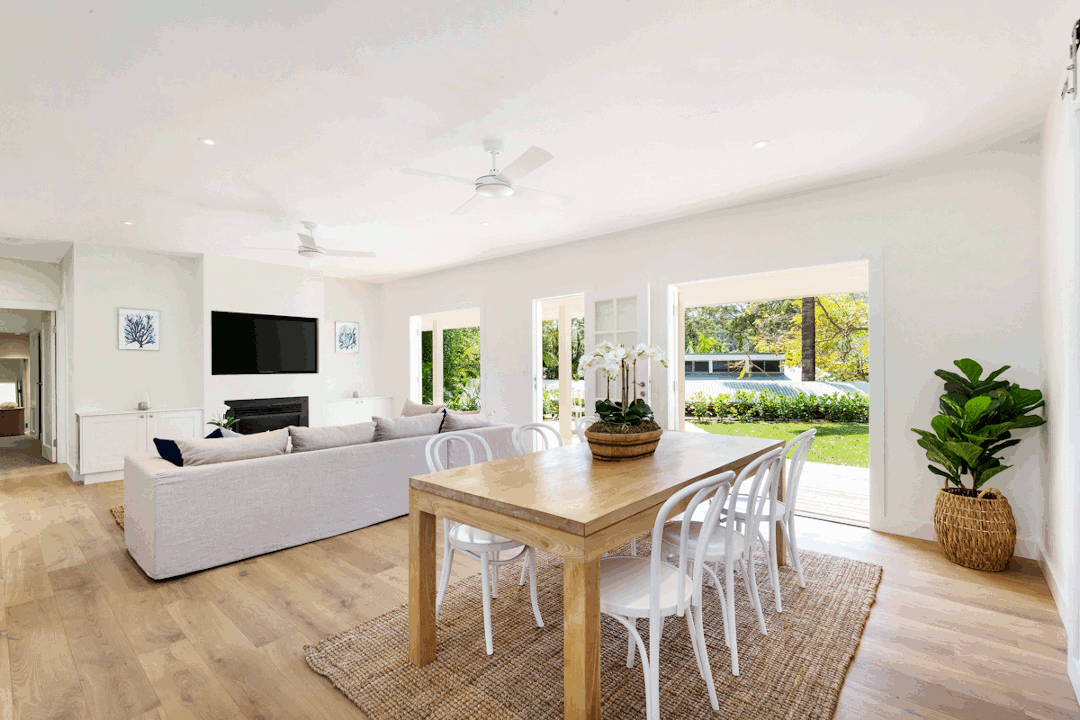 Why do you think homeowners are choosing to convert underutilised spaces into more family-friendly zones?
BS: Traditionally, homes were built with separate rooms that serve a unique purpose; however, that is not how the average Australian family lives today. Instead, the modern family likes to live together and interact in one large space, which is why once separated areas such as the dining room, kitchen and living room are now being merged. In addition to this request, families also want to include other separate living areas into their homes, such as a home office, children's playroom or a reading nook for added privacy.
What key factors typically inform your design choices when converting a bedroom into an additional entertaining/living space?
You need to consider the space you have and its capabilities. Bedrooms are often very narrow, so even if you do remove a wall between two bedrooms, there are no guarantees that the combined space will be an ideal configuration for a living or lounge room, as these spaces are typically designed to be much wider.
What is your main piece of advice for renovators who are thinking of converting a spare bedroom?
Bedrooms within older properties can be quite small, and so homeowners will often request to have the walls of a third or spare bedroom removed to create two larger bedrooms instead. Requests to convert unused bedrooms into additional living spaces are also popular.
If you're thinking about converting a bedroom into another living space, it's wise to replace the original bedroom through a home addition, as removing the bedroom altogether may decrease the value of your home in the long run.
How can a spare room be utilised to increase the size of a main bedroom?
One of the most common methods for enlarging a main bedroom is removing the wall between two adjacent rooms. However, spare rooms can also be easily converted into a walk-in wardrobe and adjoining en suite, providing the space with instant 'wow' factor.
Bathroom renovations can be somewhat difficult. What advice do you have for readers who want to convert a spare bedroom into an en suite?
For those looking to install an en suite into their bedroom, new plumbing will likely be required; therefore, hiring a professional is vital. When undertaking a renovation such as this, we'll normally have to strip back the existing wall and ceiling linings to make room for the new electrical and plumbing services. We also need to make sure there is adequate drainage, which often requires cutting into the existing flooring, installing the drainage and then repairing the floor.
You simply cannot cut corners when installing a new bathroom. The bathroom is one of the more costly rooms to build within a home, so it needs to be built properly to avoid having problems in the future. To ensure your bathroom will stand the test of time, we strip the room back to its original structure or framing and then rebuild it from scratch, so you are guaranteed a long-lasting result.
In addition to spare rooms, garages are often  converted into more liveable spaces. How difficult is this to do successfully and are there particular structural challenges homeowners should be  aware of?
Generally, Australian garages are built using the single skin brickwork with engaged pier method and with the concrete slab close at ground level, causing garages to be considered non-habitable or not suitable as living spaces. If you do require additional room, converting a bedroom would likely be a better alternative.
However, if converting your garage is the only option available, raising the floor level will be a requirement for compliance. Similarly, termite protection measures will also need to be put in place to ensure structural longevity. The garage walls will also require attention too. You cannot glue plasterboard directly onto the existing brickwork, as bricks are incredibly porous and the moisture from the outside will completely damage the plasterboard. For a renovation such as this, we recommend framing the original brick walls with timber framing the original brick walls with timber prior to fixing your plasterboard. While garage conversions are one of the most common owner/builder renovations undertaken, it can come with many problems if not done correctly. Engaging the services of a qualified professional is highly advised. 
What are your recommendations for creating the illusion of space within a small room?
Installing mirrored cabinetry or sliding stacker doors, as well as floor-to-ceiling windows are great options for making a room appear more spacious. Introducing some leafy plants or greenery is another handy trick for making a space feel more welcoming and inviting.
What is your final piece of advice for renovators who want to convert a spare bedroom into a functional yet stylish space?
Adding just one metre of space can do wonders for increasing the size of a room. If one metre is all you have, then use it; it will make a world of difference.
ROOM FOR IMPROVEMENT
To increase your home's liveability, read on for tips on converting that lonely, cobweb-ridden spare room into one of these stylish spaces.
• Theatre Room: Installing joinery along an entire wall will provide the perfect place to display treasures, DVDs, books and games. Be sure to include a sizable screen and home- theatre system too!
• Gym/Yoga Room: Ample storage solutions and plenty of natural light are top priorities when creating this type of space. Opt for sliding stacked or French doors for a touch of sophistication.
• Home Office: Installing expansive windows will help to create a more inviting work environment. Where possible, try to convert a space that offers picturesque garden views or vistas of the natural surrounds.
• Child's Playroom/Game Room: For this space, we recommend converting a room that is near the main living area or kitchen, so that the children aren't too far away from the communal areas and can easily be supervised.
Top Image Credit: Spannenberg & Sons
Bottom Image Credit: Kari Shea via Unsplash