Providing ultimate ease-of-access, and being a seamless method to transport you from one level of your home to the other, the modest staircase has often been considered an afterthought for many homeowners – perhaps until now. In conversation with managing director of Stairman, Juanita Dowd, Sydney Home Design + Living's Bethany Hayes unpacks how your staircase can improve your home's style, enhance a sense of grandeur, and remain so much more than just a means of transport.
A VALUE-ADDING CLIMB
Not just a way of a getting your heart pumping, a
cleverly designed staircase is able to be a statement piece within your home – viewable from all angles, and actually a core part of your home's overall design, theme and style. In simple terms, a staircase is where form meets function. With the importance of home being most apparent in the years now more than ever, it would be no joke to say that the staircase has aptly, stepped up. "[For] what once was only considered to go from one floor to the other, staircases are now becoming more of a fashion item," Dowd explains. "We have many people [drawing on] social media as an influence. [It is from this] that many overseas designers are starting to 'make pretty' what was a boring subject."
Whether spending time at home is your ideal evening, or hosting a range of family and friends tickles your fancy, Dowd affirms that the staircase's natural eye-catching nature, and central position within the home make it ideal for conversation. "Many people are now spending more of their precious time entertaining at home, and what better way to start a conversation than around that stunning central feature you use to go up and down floors." Dowd emphasises the importance of all staircases to be built "to Australian standards and tie in with the Building Codes of Australia",
which ultimately defines the safety and functionality requirements for your staircase. It's in the staircase's visual appearance however, where the freedom lies. "Appearance, however, is entirely a clients' choice," the managing director notes. "Our most common request for new staircases or upgrading old ones is to have a
glass balustrade," she continues. "Glass balustrades give the [homeowner] an open feeling, that also lets in more light. These also make the stairs feel bigger and brings in more of the current trends to the home."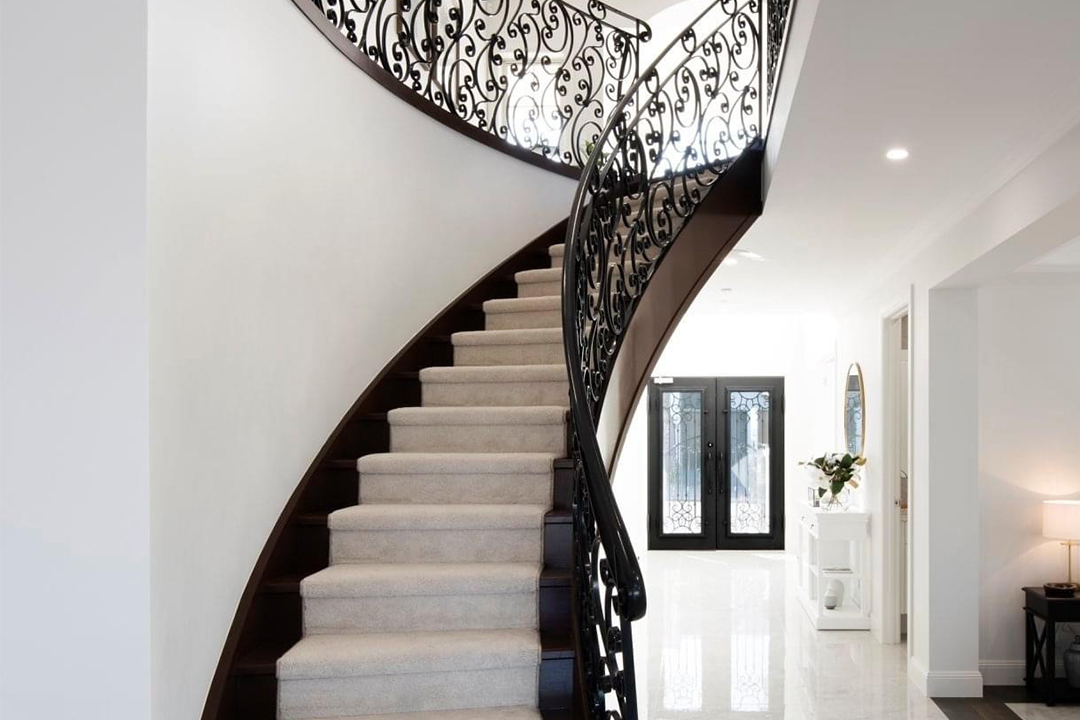 THE SPECIFICS OF STAIRS
If you're wondering what exactly the difference is
between a traditional staircase, and the modern
staircase of today, Dowd flags that it is the stringer type and balustrades that hold the answers; stringers referring to the support on which the steps of your staircase rest. "Traditional types of stairs are usually a closed-rise covered in carpet, or with a hardwood tread
and riser, a closed stringer and a timber balustrade," she details. On the contrary, a modern staircase usually embodies a steel, cut, or open-rise stringer, which usually has an open-rise tread, with glass balustrades.

THE CANTILEVERED STAIRCASE
Described by Dowd as being "the most unique stair we have created over the past years", cantilevered stairs are designed so that the stair treads appear to be floating without any support – and the visual result is pretty spectacular. "A cantilever staircase is secretly fixed to the inside of the adjoining wall, in which glass balustrades are attached to the ends of the treads, giving the staircase the complete 'wow' factor," Dowd reveals. "The treads are the only part of the staircase bones that are visible – apart from the glass balustrades – so you have the floating look."

THE WINDER STAIRCASE
Winder staircases are a type of turn staircase, where winders of a trapezoid-like shape are used for the purpose of turns. "Most staircases that turn a corner must incorporate a winder section. Whether it's a full U-shaped stair fitting in between walls, or just an L-shaped stair that only need one 90-degree turn," says Dowd. Essentially, the winders are the "two or three treads that make the stair turn the corner".
THE SPIRAL STAIRCASE
Prevalent in older style homes, particularly those
inner-city, the spiral staircase is certainly a spacesaver. "These spiral stairs make the most use of a small space, which perfectly fits spaces that our newer styled stairs cannot fit in with," the Stairman director attests. "Whilst not very popular anymore, we [do] have many requests to revamp [spiral staircases], to bring them more into our times. A spiral stair is usually an openrise, and each tread turns the user upwards on a tight spiral up towards the next floor."
EVERLASTING OPULENCE
So, how does a staircase enhance a sense of grandeur within the home? The key, according to Dowd, is from both clever design and the materials used. In her experience, the "single steel spine, with its 68-milimetre thick treads and 12-milimetre toughened frameless glass" evokes the current sense of opulence and grandeur. It's a style that Dowd also flags as becoming more popular, as it fits in with most budgets. "The modern staircase is determined by stain colour
or timber species, the staircase shape and – most importantly – the balustrades and handrails used," she further explains. "Tying your components, colours and styles with the remaining parts of the home is really creating the 'wow' factor, and setting trends." This season, it is black with glass that Dowd has noticed to
be in style.
When working with a professional, the sky truly
is the limit for your staircase. Taking into careful
consideration the safety function of the balustrades used – as these are there to protect the user from falling and provide balance when climbing – as well as the style of your home is a great starting point. Whether you're after something with unique lighting strips, or landings to provide users a convenient stopping point, combining your vision with that of an expert, will have your staircase leading to heaven in no time.
Images courtesy of Stairman