State CEO for MATES in Construction, Brad Geatches, discusses how the independent industry charity is tackling the staggering over-representation of construction workers in Australia's suicide toll.
National MATES in Construction 
24/7 helpline: 1300 642 111
Photographs: MATES in Construction    Editing: Georgia Jordan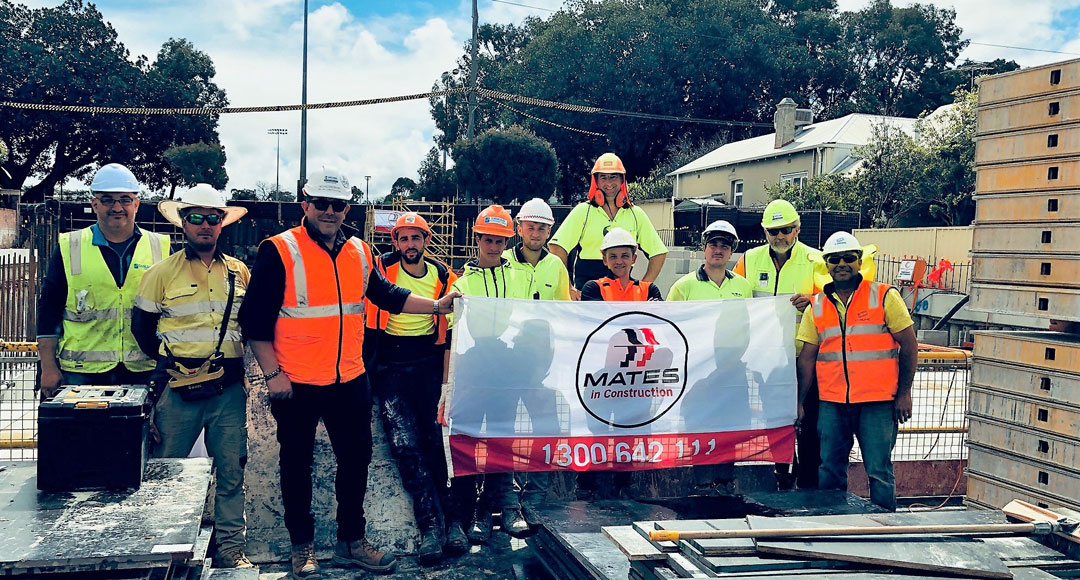 Male construction workers are 53 per cent more likely to die by suicide than other men in Australia
One in 20 construction workers may have suicidal thoughts, while one in 500 will make a suicide attempt
Between 2001 and 2015, a total of 3000 construction workers died by suicide (2,958 male and 42 female workers); this is an average of 200 workers per year and more than six times the mortality from construction workplace accidents
The number of MATES in Construction General Awareness Training participants and connectors to date exceeds 163,500
MATES in Construction has supported 8000 case-management clients (including FIFO construction workers on mine sites)
Suicide rates in the Queensland construction industry declined by eight per cent in the first five years of the MATES in Construction roll out
As MATES in Construction is an independent charity, it operates at the invitation of the employer rather than reporting to the employer, which means workers don't feel they are risking their livelihood in sharing their struggles
The program is rolled out on-site to promote sustained change in site culture and encourages workers to help each other
The interventionist, personalised and face-to-face nature of the program is effective in a male-dominated industry where workers are typically hesitant to initiate contact with support services
What can you tell us about MATES in construction?
BG: We are seeking to catalyse cultural change to make the industry a safe place for people with mental health issues, or those at risk of losing their life to suicide.
Essentially, our goal is to achieve a suicidefree building and construction industry in which workers and their families enjoy good mental health and well-being. We are raising awareness in the industry that mental health and risk of suicide are serious issues that all organisations in the industry should be collectively addressing. We are also seeking to reduce stigma around mental health and suicide so that workers are more likely to seek and offer help.
We are not seeking to insert ourselves in workplaces as subject-matter experts; rather, we provide skills to workers to increase their capability to look after each other, and to seek help. Our program is more interventionist than most, reflecting how our industry's workers are overwhelmingly male, and men are generally less likely to initiate contact with people or organisations who can help them. Our program is evidence-based, which means we emphasise the importance of research in the improvement of our program.
How long have you been in operation?
MATES in Construction was established more than a decade ago in Queensland. The main catalyst behind its formation was evidence brought before the Cole Royal Commission into health and safety in the construction industry, which revealed the very high rate of suicide among construction workers.
Responding to the challenge posed to Commissioner Cole to do something to address the issue, peak employer bodies, unions and academics came together to investigate the causes and develop solutions. It was from this bi-partisan industry effort with support from academics that MATES in Construction was created.
We have teams in each state, excluding Victoria, as well as a national organisation, MATES Australia, which provides overall coordination. Such has been the success of the program, we now also have MATES in Mining, which is growing rapidly in Queensland, New South Wales and Western Australia with more than 9,500 workers having benefitted from the program in the first two years. MATES in Energy has commenced in Queensland in the past 12 months, and a division for the rail industry is also being trialled.
How does the organisation operate?
MATES in Construction comprises two main streams of activity. Our team of field officers are on construction sites delivering our three training programs and liaising with workers, particularly those who have been trained as 'connectors', whose purpose is to provide a pathway to help. Our case managers, on the other hand, attend to workers and their family members who have identified as being in need of support. Our case managers work with their clients to identify the issues that have accumulated and begun to compromise their psychological well-being, and we develop a support plan for them, linking them to primary health and community-based services that can help with their issues.
Why is poor mental health and suicide so prevalent in Australia's construction workforce?
Much of it stems from the fact that the construction industry is exclusively structured on a contracting/sub-contracting basis, the purpose being to generate competitive pressure to deliver productive and low-cost outcomes for developers. The pressure on project timeframes and budgets is typically intense and cascades down to workers. What little empathy exists in the workplace is further reduced when projects don't go to plan, which is often the case.
The project-to-project system of the industry focusses on the short-term, resulting in a 'get this job done and win the next one' attitude. As a result, workers have low levels of employment security, and are unlikely to ask for help for fear that they might not get the phone call to work on the next project. The long working hours also make it difficult to access professional support, and oftentimes alcohol and drugs are seen as a way of coping with their problems. In a maledominated workforce, seeking help and offering help are behaviours that are in relatively short supply, as they don't come naturally to men.
What does the support program offered by MATES in Construction entail?
All workers receive General Awareness Training, which highlights the problem of suicide in the industry, reduces the stigma associated with suicide, and makes them more aware of the various indicators they can expect from a workmate who is struggling.
The training also teaches them what to do if they sense a workmate is in trouble. At a ratio of one in 20, volunteers progress to a higher level of training which enables them to have a conversation with a worker about their mental health and suicide. These are our connectors, who are trained to help the worker find the help they need.
Our 24/7 helpline (1300 642 111) connects workers and their family members to our case managers, who work with them to develop a personalised support plan and help them implement their plan.
What are the short- and long-term goals of the organisation?
In the short term, we want to increase the penetration of the MATES program in the construction industry, particularly the residential sector so that more workers have access to the program. We also aim to secure higher levels of funding; as an independent charity, we rely on industry funding and public donations, and currently governments, construction companies and developers are not providing enough financial support – we are imploring them to provide more.
Our ultimate objective in the long term is to remove the need for our program. We will know that this has been achieved when construction workers are no more likely to lose their life to suicide than any other Australian.
What is your advice to readers who know someone in the construction industry who is struggling?
Have a discussion with the person, and express your concern for them. Ask them if they are OK.
Look for signals that they might not be, such as changes in personality, expressions of hopelessness, and pushing friends and family away. Personally, you can access the great online resources at Lifeline and Beyondblue, which will provide information about helping others. If your discussion with the person does not allay your concerns, encourage them to call the MATES helpline on 1300 642 111.
How can readers get involved with MATES in Construction?
You can help us raise awareness by following us on LinkedIn, Facebook and Twitter, and promoting our message across social media. You can encourage companies to support the program, both by implementing it in workplaces they control and by providing financial support through becoming a corporate partner or by sponsoring events. There is also the option to become a Friend of MATES for less than the cost of a cup of coffee a week and help with our efforts to raise the funds we need to continue to save worker's lives (visit www.friendsofmates.org.au/ wa to sign up).
Keep an eye on the MATES in Construction website to be notified of charity lunches, information sessions, and other events. Our annual Kokoda trek has become a pilgrimage in honour of our fallen diggers and lost friends; taking place from 6–15 September in 2019, it is an opportunity to fundraise for suicide prevention programs in the construction, mining and energy industries and make a difference to so many people's lives.
www.matesinconstruction.org.au/nsw
nswenquiries@matesinconstruction.org.au