Designs that embrace angular and linear lines have paved a well-established path in modern architecture. While on the surface they appear subtle and simple, the effect they have on drawing the eye and accentuating special features is unparalleled. Kirrily Ireland speaks with Tom Ellwood, founder of Avenue One, the company's esteemed design director Toby Johnson, and interior designer Alice Dalloz, to explore the benefits of using straight and angled lines in architecture.
Written by Kirrily Ireland.
Versatile and timeless, straight and angled lines "have always been dominant throughout the architecture space, with their use varying on the individual designer". Both the external and internal parts of the home can profit from the whims of lineation – be it through the use of clean edges, intentional intersections or strong profiles – and these can be implemented in any style of home, whether it's along the coast, deep in the suburbs or bordering the city.
STRAIGHT TO THE POINT
There's no one better to convince you of this fantastic design tool than a trio of architectural and design experts with years of experience behind them. "Straight and angled lines are geometrically pleasing to us at Avenue One and, if utilised correctly, can really make a property stand out when compared to other bespoke houses," the Avenue One team says. "Why pigeonhole oneself to a square box when you can really have fun with a design, especially in terms of creating spaces that don't follow the traditional four walls and a pitched roof construction methodology."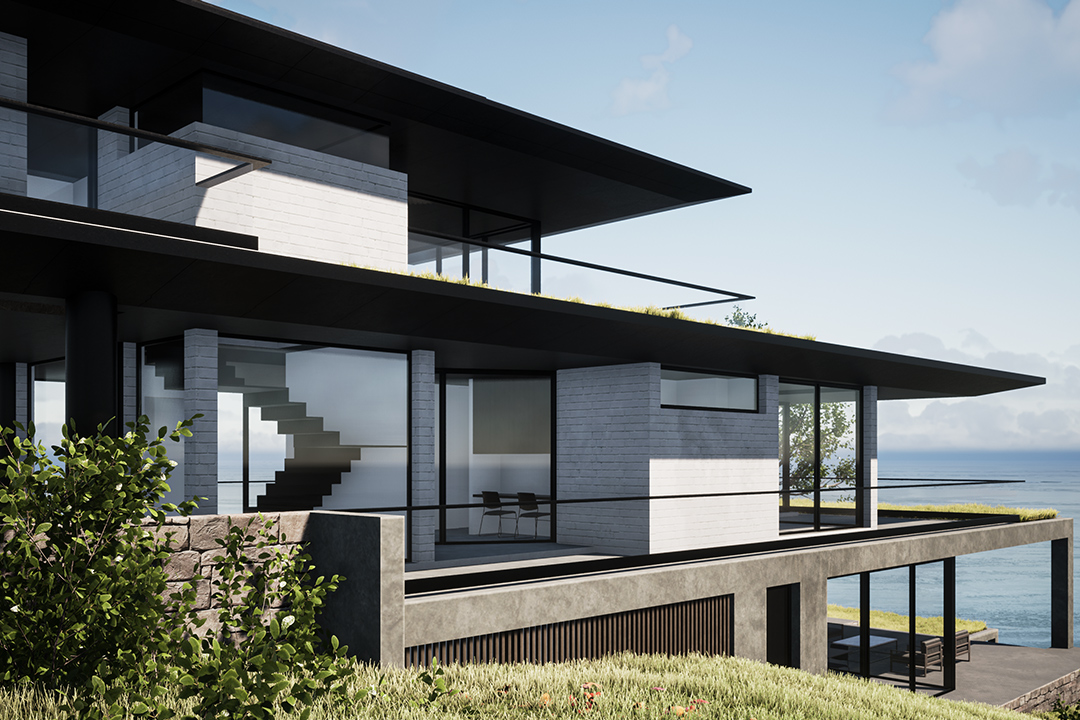 Although seemingly rigid, straight lines come with a wealth of flexible uses, creating different effects in subtle ways. Their simplicity can force the unknowing eye to focus on certain features that you or your architect may want to highlight – even if that feature is the clever use of lines and angles itself.
Not only do linear elements look great, they're also a highly functional design choice, making the construction process more straightforward compared to complex shaped buildings, and efficiently utilising the allocated space. When it comes to this construction process, the materials you choose are an opportunity to evoke different impressions, depending on which way you go. For instance, a slanted beam done in rough timber will look more rustic, while steel is always a good choice for a modern, urban vibe. "At Avenue One, we prefer to work with natural materials and exposed surfaces throughout our designs, for example, natural timbers, off-formed concrete, and exposed steel beams," the experts say. "Given the complexity of working with exaggerated angles and cantilevers, the specifying of these materials allows for the construction of our designs – hand-in-hand with the hard work of the selected builders we work with!"
DRAW THE LINE
As the streets are gradually filled with modern homes showcasing defined angles and sharp edges, incorporating these cool compositions into your new façade may be tempting. Ellwood, Johnson and Dalloz mention "exaggerated cantilevers, offset skillion roofs and splayed walls" as a few of the many ways they can introduce straight and angled geometric lines into a design. "Through specifying these certain design elements, we can provide clients with a design that not only meets their requirements, but does so in a way that provides them with a bespoke home that spurs one's imagination and is unlikely to be replicated."
There are a multitude of ways to purposefully create an angled effect. As the Avenue One team has noted, splayed walls and cantilevers take advantage of the shape of the building itself, using the larger structures such as the roof and walls to achieve sharp lines and angles in a more dramatic fashion. If you're going for something smaller and nuanced, selecting materials that display some form of lineation can do the trick. Examples of this range anywhere from patterned tiles and stonework to panelled cladding, windows and doors. "Horizontal lines suggest a solid and harmonious relationship with the Earth that brings a stabilising and peaceful effect to window treatments," the experts say. "Using sharp angles for windows and doors accentuates the openings and brings a dramatic and modern look."
Whether these uses of straight and angled lines are intentional or not, most homeowners will end up benefitting from them, as they often tend to appear naturally in the materials and common construction methods employed by designers and builders – combined with the planned angles and lineation, the result can be truly spectacular.
Straight and angled lines can serve a home's interior just as well, even if it's in a less obvious way. What many homeowners don't realise is that architects and building designers quite often have to consider lineation when creating the layout of a house to ensure it is ergonomic. "We constantly use straight and angled lines throughout our architectural detailing – for example, material transitions and joinery junctions – to seamlessly connect a building's interior and exterior. These lines are often used simultaneously throughout a project, with either the straight or angled lines dominating the other to accomplish the desired effect and overall design aesthetic for the project." A sleek waterfall edge benchtop in the kitchen, a geometric display unit in the living room, or a slatted feature wall in the bedroom are all fantastic ways of employing edges and angles to create a statement within the home.
TAKE THE EDGE OFF
While sharp lines and linear designs are undoubtedly stylish, the intensity they evoke often requires softer, complementary elements to help alleviate their severity. "Incorporating curved lines into a design provides relief and a softness that often may be missed if working solely with straight lines and angles," the Avenue One team says. "Perfect lines and angles in nature are very rarely seen and introducing curved lines into a design provides architecture with a natural and organic aspect, balancing the harshness of a seemingly angle-perfect home." The main goal is to reach a certain balance and not overdo it with any single shape.
Cutting-edge home design in its most simple form is about championing sleek edges and angles, and turning the humble line into the hero of a façade while simultaneously using it to mark out functional, flowing spaces inside.
Images courtesy of Avenue One