Residents of Sydney are blessed with some of the best weather that Australia offers, so it's no surprise that outdoor entertaining areas are becoming one of the most sought-after and well-utilised spaces in the modern home. The addition of an outdoor kitchen will elevate any home and alfresco, creating an optimal environment for entertaining and a space for the family to make the most of warm summer evenings. Attard's Kitchens & Cabinetry has been creating stunning kitchens throughout Sydney for more than 30 years. In conversation with company director, Michael Attard, Tristan Lott explores the unending potential of outdoor kitchens for the Sydney homeowner.
Written by Tristan Lott.
A WHISK WORTH TAKING
When designing your outdoor space, making accommodations for functionality is an important step in the process. This can be done by ensuring relief from harsh weather by incorporating undercover areas and heating, introducing ease of access throughout the space and into the homes' interior, and creating room for seating and dining areas.
In a similar vein, function should take pride of place when designing an outdoor kitchen. Much like an indoor kitchen, maximising flow and keeping order in mind is highly important to optimise the usefulness and enjoyment potential of an outdoor kitchen. Think about what you'll be using your kitchen for, and the order of operation that is likely to take place. "Everything I design starts with the initial design brief to determine what our client is looking to achieve with the space," Attard affirms. For example, ensuring there is adequate bench space beside appliances will allow for a more streamlined experience, while including an island bench – if space allows – can elevate cooking for a social event.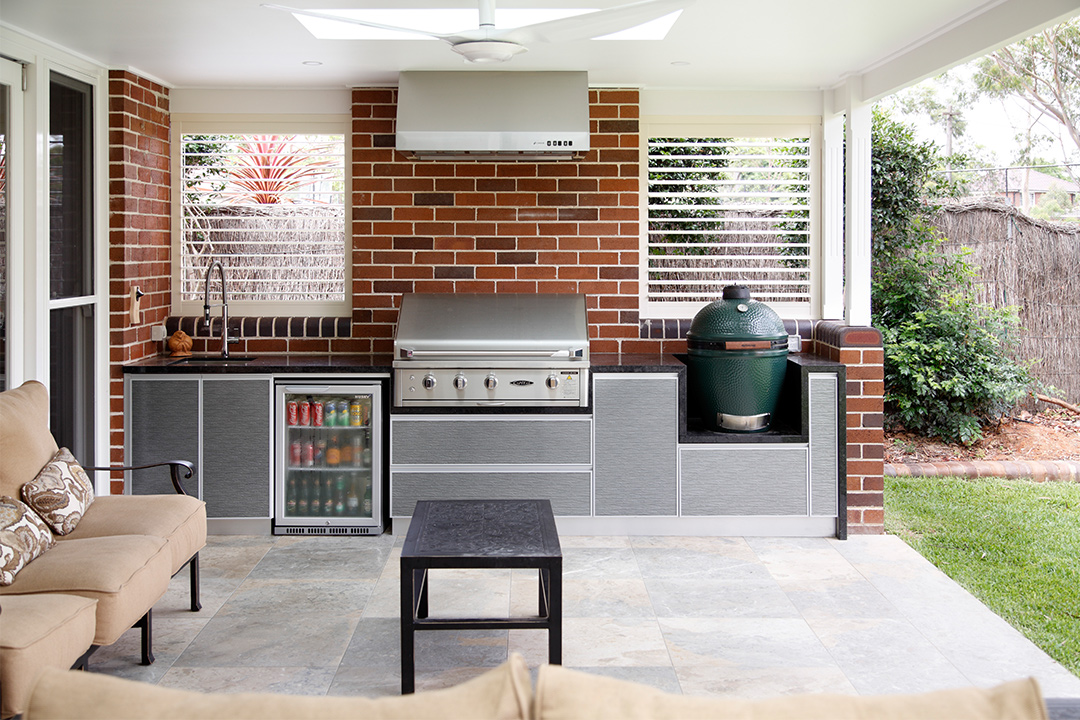 TURN UP THE HEAT
When designing outdoor kitchens, Attard says "the approach is quite similar [to indoor kitchen design]", but acknowledges a clear difference in the materials used as well as the recent trend towards creating spaces for entertainment and connection rather than formal rooms. "The last 30 years has shown us that formal rooms do not get used as often as we would like," Attard expresses.
Similar to indoor design trends, natural materials such as granite are popular for outdoor kitchens. The main consideration that must be made is the durability of each material chosen, as an outdoor kitchen is far more likely to be exposed to the elements. Stainless steel is a popular choice – favoured for its durability and easy maintenance, while toughened glass is recommended above the stock-standard variety. When choosing timber to feature in your outdoor kitchen, opt for a hardwood variety that is unlikely to warp or split and will need less regular treating than a softwood – think teak, spotted gum, or blackbutt.
Attard shares his must-have inclusions for every outdoor kitchen, saying, "drawers are great for accessibility, built-in bins are a must-have, [and] of course storage for the basics: cutlery, glasses, and crockery." These inclusions allow for a simple set-up and stress-free tidying, as you won't have to worry about trekking all the dishes back inside. "The outdoor kitchen becomes a destination in itself connected to the outdoor space [such as gyms, bars, pools and gardens]," Attard concludes.
While you're sure to have more than enough sunny days to enjoy your outdoor kitchen, it's important to make accommodations for the gloomier days too. According to Attard, "most outdoor zones are now normally under the same main roof and connected [to] the living space." By ensuring your outdoor kitchen and entertaining area is under an alfresco or pergola, you will have a space that you can enjoy 365 days of the year. Similarly, having the space directly accessible from the indoor zones means that household members and their guests can flow throughout the space with ease whenever they wish.
FOOD FOR THOUGHT
If a dedicated outdoor kitchen cannot be created, homeowners can still achieve the same result by introducing flow from the interior to the exterior of their home, with particular focus on opening their kitchen to the great outdoors.
Clever design inclusions like sliding or French doors, a kitchen pass or service window, or simply opting for bay or double-hung windows, are straightforward choices that can easily disrupt the divide between your indoor and outdoor spaces. Speaking on making indoor kitchens accessible and functional for outdoor entertaining, Attard says the most important  consideration is "the correct position of the main kitchen based on how the household… live and entertain." In this way, you can have all the comforts of a full-sized, indoor kitchen without scrimping on the entertainment or lifestyle benefits offered by an outdoor addition.
Attard also notes that the communal atmosphere and plentiful benefits of an outdoor kitchen can often be achieved with the simple addition of a barbecue to any outdoor space. "Most of us have a barbecue," he says. "Start with the basics."
The barbecue is a summer staple for almost every Australian. Evoking a fun and carefree atmosphere, enjoying good food and cold drinks with friends and family is one of the best ways to pass the extra light and warmth afforded to us by daylight savings. Whether you're chilling out poolside or enjoying a night on the deck, including an outdoor kitchen in your home is a sure-fire way to make entertaining both enjoyable and functional.
Images courtesy of Attard's Kitchens & Cabinetry Pty Ltd